I have a next door neighbor who has a different internet provider than mine. When her service goes down, she asks me for the password to my router so she can connect to the internet. I have no problem providing her with the password, but I wonder if anyone in her house can access my computer now through the router. I trust her but I am concerned that others might try to hack into my system. Should I be worried?
Worried? That might seem a bit strong, but some concern is certainly reasonable.
The short answer to your question is yes, unless you protect yourself, it's possible that someone on her computer with less than honorable intent could cause you grief in several ways.
Let's look at how.
It's all about trust
We need to start by understanding exactly what it means to share your internet connection.
One of the reasons using a router is so important is that it provides a firewall between an untrusted network, such as the internet, and a trusted or safe network, such as the local network to which you connect all of your computers.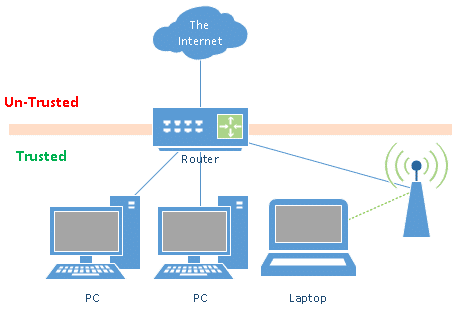 You implicitly trust all the computers connected to your local network on the "trusted" side of the router. You know you've taken whatever steps are appropriate to keep them secure, and you understand the expertise and knowledge levels of the users of those computers. The bottom line is a reasonable level of safety associated with those computers being allowed to communicate with each other.
The most important side effect of being able to trust all of the computers on the trusted side of the router is that you don't need to take a lot of extra steps to protect those computers from each other. The biggest example might be that you probably don't need to have a firewall enabled on every computer1; the router's firewall, which protects them all from the un-trusted internet, is enough.
Sharing your internet
By giving your neighbor a password, I assume you mean you are giving her your existing Wi-Fi password and she is connecting using a wireless connection. (The alternative would be to string a cable to her house, and I'm pretty sure you're not doing that.
)
That means her computer is connecting to the trusted side of your router.
This changes the trust dynamic dramatically.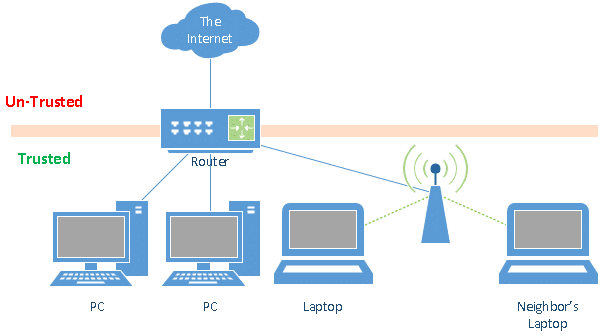 As you've said, you don't really know how much you can trust your neighbor or the other people in her house.
In other words, you just allowed an un-trusted connection into the formerly trusted side of your router.
What could possibly go wrong?
There are several ways this could cause issues for you.
It could infect your computers with malware.
You don't know how up-to-date your neighbors are on things like computer security. For all you know, their machines have never been updated, have never run anti-malware software, and are liberally infected with malware. Your computers are potentially vulnerable to threats coming from these poorly maintained computers.
It could be used to access your computer.
It's possible your neighbor could access your computers directly. If you have remote desktop enabled, they might be able to log in to your machine.
It could be used to peek at your data.
A more likely scenario is that your neighbor would be able to access files on your machines using Windows networking. Exactly how much of your computer's data is visible depends on how you set up your network. In the worst case, it's conceivable your neighbor could access all files on all of your computers. A more common threat is that your neighbor could access "some" files – where "some" once again depends on your specific network configuration.
It could get you in trouble.
If your neighbor were to begin downloading copyrighted or illegal material, or performing other illegal activity online, that could be traced back to your internet connection, for which you are likely liable. (Caveat: I am not a lawyer, but it's my understanding that in most cases you are liable. Seek appropriate counsel if you're not sure.)
Allowing your neighbor access to your internet may impact your own ability to use it. If they regularly stream lots of video or otherwise use it heavily, you could see your own internet speed slow significantly. If they get blocked or banned from certain sites, it's possible those blocks could apply to you as well.
What to do?
As I see it, you have four options.
Politely decline
Needless to say, the easiest and safest answer is to politely decline. Perhaps you can explain that you have heard horror stories, and don't want to put yourself or your neighbor at the risk of experiencing any kind of problem or misunderstanding.
Guest access
If you have a router that supports something called "guest access", it does some of the network isolation we're looking for automatically. Simply give your neighbors access to that "guest" network.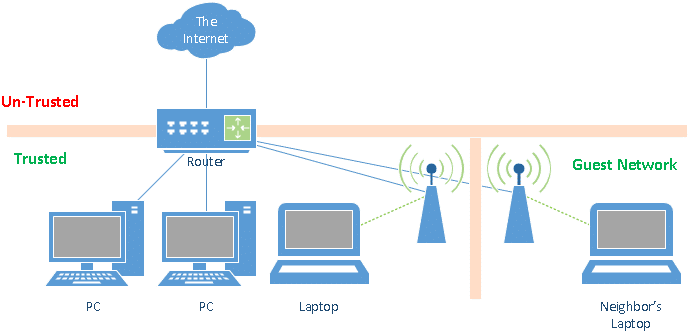 It's important to realize that this in no way addresses the liability or bandwidth problems. Those still exist. But it can be a safe way to protect your computers from your neighbors' computers.
A second router
If you don't have a router that supports guest access, another secure solution is to invest in a second router.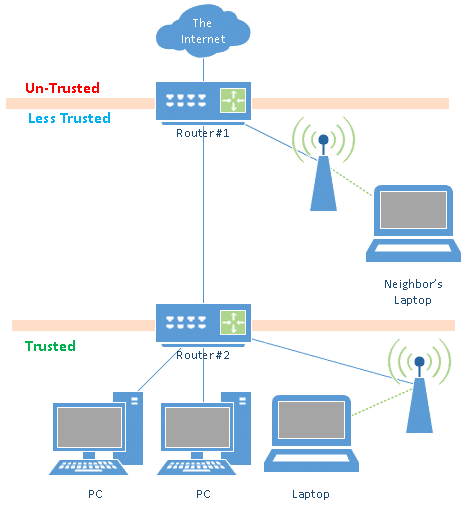 The internet would connect to router #1, and your neighbor would connect to router #1.
Router #2 would be connected to the LAN side of router #1, and all of your computers would be connected to router #2. Router #2 maintains our un-trusted/trusted demarcation, in which all of your computers remain on a trusted local network, and everything untrusted (including both your neighbor and the internet at large) are on the other side of that router.
This can be a bit of work to set up correctly, and, like a guest network, doesn't address the liability or bandwidth issues. In all honesty, if you were going to get another router anyway, I'd spring for one that includes guest network capabilities and simply replace your existing one.
Direct access
If you want to allow your neighbor to access the internet through your connection without any of the techniques discussed so far, you should at least look to lower your risk. I would make sure to confirm that the firewall is enabled on all of the computers connected to your LAN to protect you from some of the threats of malware or data snooping.
Podcast audio

Download (right-click, Save-As) (Duration: 6:45 — 3.2MB)
Subscribe: RSS