Question: I was told that there are many apps on the market today which allow people to gain access to any email or text message you may be sending without your knowledge. For example, a suspicious spouse. If such is the case is there a way to block or disable them?
Sure there's software like that. It's called malware and it's been around for years.
Malware
The basic ideas is this: malicious software gets installed on your computer. It reports back to someone else what it is you're doing.
It's like the classic definition of what we call spyware. Spyware installed on your machine can basically track anything. Heck, more general malware on your machine can not just track anything but it can do anything.
Now if you're thinking "Isn't that just the same as viruses and such?," you'd be exactly right. That's exactly what this is: viruses and spyware and generally malicious software installed on your machine.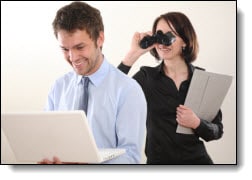 And you already know the way to prevent this and how to cure it: good internet habits. Don't download and run things you don't know are 100% safe; don't open attachments that you don't know are 100% safe. Run up-to-date anti-malware tools: the usual litany of things that we keep telling people to do to keep themselves safe on the internet.
Spying without malware
Now, if your question is really "can someone spy on your online communications without installing things on your computer?" then in the general sense, the answer is no.
If they gained access to your router, maybe. If they're the NSA and they have access to your ISP, maybe.
But in general, no, random people can not intercept your mail, and the same is generally true for texts.