Hey, Leo. I recently changed my wireless router to that of my ISP's provided router. Is this recommended with respect to privacy and monitoring issues? I can go online and see which devices are connected to my router and I can change certain settings and the SSID but I cannot take all the security measures you describe like disabling logging and remote management. Can they monitor my internet activities easier now? What if I use a VPN? Or should I just buy my own router? Does it matter?
The short answer is that it doesn't really matter, and that I recommend using your ISP's provided equipment, unless you come across some compelling reason not to. I don't see one here.
Your ISP's provided router
The biggest reason for using your ISPS's provided equipment is that they're the ones responsible for supporting it. Or better yet, they can support it when you have questions about it. They should be able to.
Logging isn't a huge issue and remote management might well be required for the ISP to be able to support you.
Who do you trust?
One of the things that I think is important to realize here is that ultimately your ISP can monitor pretty much anything you do.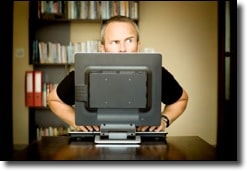 They're in charge of the bits that cross the internet to and from your connection regardless of how you're connected, and this isn't really anything new. Using their equipment doesn't make it substantially easier. Replacing it with your own doesn't make it substantially more difficult.
Your ISP can see what websites you go to and they can see the contents of the unencrypted web pages you see. They can't see the contents of your https connections, but they can at least see that you made them and to whom.
But as I keep saying, you and I, we're just not that interesting. Our ISP's have way better things to do than to pay attention to or watch what we're doing. Even recording what we're doing just isn't that exciting. I mean, why would they?
If you subscribe to the NSA style paranoia, well then, no ISP and no router would be safe from spying eyes. But again, I honestly believe that most people have an over-inflated sense of importance when it comes to spying eyes.
But what if you're interesting?
Now, of course, there are people with very real and very legitimate issues. People who are "interesting" need to take some steps.
So, if you believe you are one of those "interesting" people, well, things get difficult depending on just how paranoid you are. And I don't mean paranoid in a derogatory way. People who have legitimate reasons to be concerned absolutely should be paranoid.
Yes, you can use a VPN and in fact, that's a pretty reasonable solution for a number of situations. But if you don't trust your ISP, why would you trust the provider of a VPN service? You can take that kind of thinking to an extreme very, very quickly.
So as I said, I recommend to most folks that you just use the equipment that your ISP provides unless you have some known, specific, compelling reason not to.