It's not an oxymoron.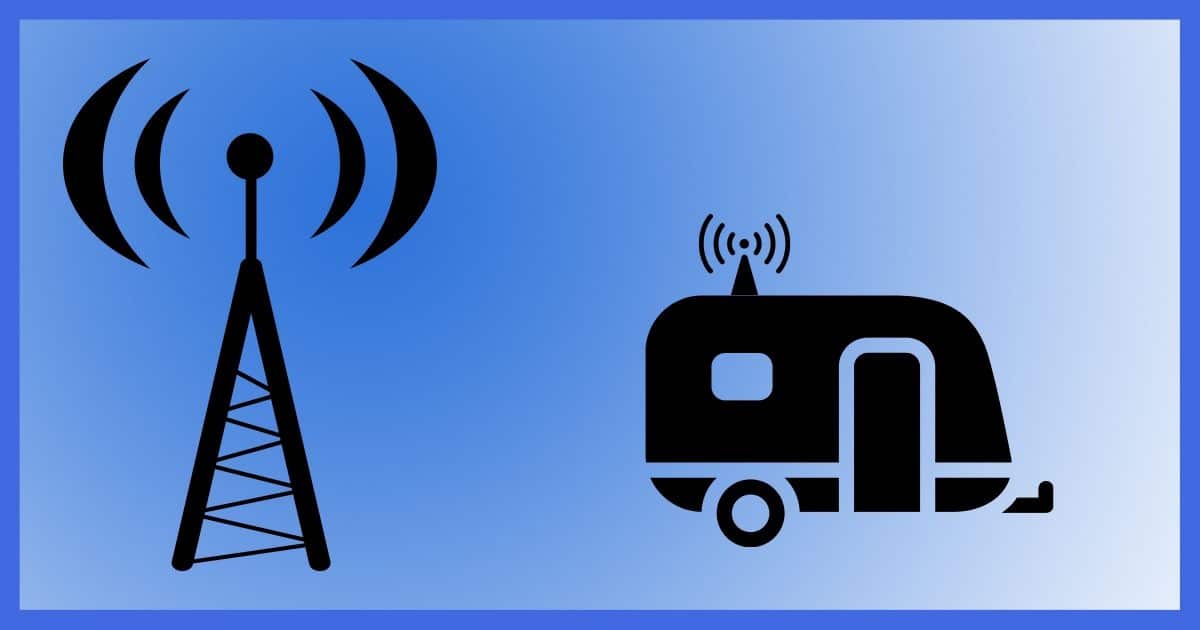 Bad Wi-Fi signal strength? A range extender need not be expensive, and can be a handy and flexible solution.
The Wi-Fi was barely strong enough.
Mobile coverage was abysmal.
And yet, even though I was "camping", I needed to get work done.
Knowing I was likely to run into this situation again, I hit "Buy Now" on a solution that's made all the difference. In fact, I'm able to write this article because it works.
Extending Wi-Fi range with a range extender
A Wi-Fi range extender is a good solution for situations with marginal Wi-Fi connectivity due to low signal strength and no chance to physically extend the local network or move closer to a Wi-Fi access point. I put one in my trailer since marginal Wi-Fi is not uncommon while traveling in it.
Marginal everything
I usually have at least two ways to get online wherever I travel:
Wi-Fi provided by my host, hotel, campground, or whatever.
Wi-Fi provided by my mobile provider in the form of a portable wireless hotspot or "My Fi" device.
Those options serve me very well in a variety of places; just not all.
This week, I'm camping. The options are slim to none:
Because of where my camping trailer is parked, the local Wi-Fi barely reaches my devices and disconnects often.
I used to have a great mobile signal here, but of late it, too, barely reaches my devices and disconnects often.
Frustrating, to say the least.
My experiment
On reflection, this seemed like a perfect situation for a Wi-Fi range extender, also called a repeater.
The idea is simple: the device is placed somewhere between the Wi-Fi router I'm attempting to access and the devices I'm attempting to use. It then acts as a kind of "middle man". Within range of both, it simply relays the conversation.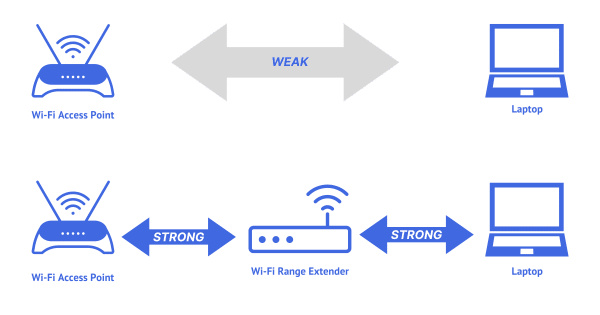 The result is two stronger connections replacing a single, weak one.
So I purchased one.
My choice
I wasn't interested in spending a lot of money, and I also didn't need a range extender that would cover an entire house. The travel trailer's only 25′ long, after all. As long as it covered that area, I'd be in great shape.
What was more important was the extender's ability to connect to the remote access point. In theory, it would be just as far away from the router as my devices. My bet was that they would design the extender for this very situation, and as a result it would have a better antenna than any of my devices. In other words, I expected it would be a better receiver.
I purchased a TP-Link AC750 WiFi Extender.
It was fairly easy to set up. Most importantly, it showed a very strong signal from the local Wi-Fi router I'd been trying to use. It appeared my bet on it being a better receiver was paying off.
After configuring it, I connected my laptop, my phone, my iPad, and my wife's laptop to the extended Wi-Fi hotspot. (We don't travel light when it comes to tech.)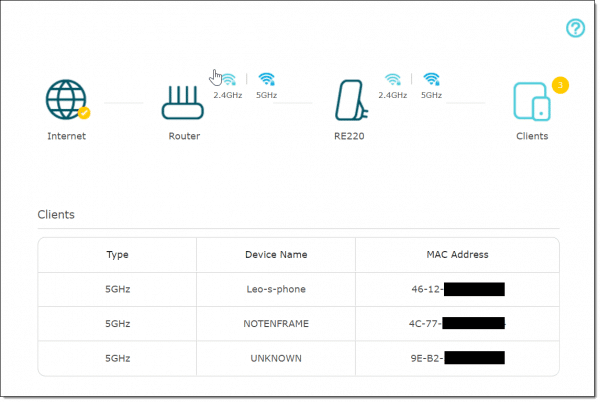 The result has been fast, solid, and exactly what I was hoping for.
I expect to use it at a campsite again later this year.
The downside
Aside from needing the device and a location to place it, there's little downside to using a range extender.
The only time it's a problem might be with high-throughput applications like games. The range extender adds another stop on the way between your computer and the service you're using. The result is that technically, an extender slightly slows communications.
Fortunately, that slowdown is typically measured as a few milliseconds: something you'd never notice except in more communications-demanding applications. I haven't tried video calls yet, but expect the impact to be minimal, if it's even noticeable.
Besides, it's far better than no connection at all.
Just disconnect already!
You may wonder why I didn't just disconnect. I was "camping", after all, right? Isn't being online while vacationing a bit of an oxymoron?
I keep putting "camping" in quotes because this isn't a vacation. We're visiting relatives. Bringing our own bed, bathroom, and kitchen makes it easier on everyone and allows us to bring the corgis.
I'm not excused from doing my work while I'm here, unlike a "real" camping trip a few weeks ago, where I did very little.
But even so, when I go camping — for real, or just as a convenient way to visit — this is my job and my passion. It's also how we stay connected to family and friends while we run around.
For many, the ability to stay connected at all makes travelling — be it a vacation or something else — possible where it otherwise might not be.
And now, with a Wi-Fi extender dedicated to my trailer, it's a little more possible, even for me.
You may not need it for travelling — years ago I had a repeater set up so I could reach out into my backyard. It's a convenient solution that rarely requires any additional wiring or complicated set up.
This article, like any article on Ask Leo!, may contain "
affiliate
links". Without affecting the price you pay,
or my decision to include them
, using affiliate links may result in my being paid a commission should you purchase the product mentioned. Affiliate links help pay the bills and support Ask Leo!.
More detailed information.
Do this
Subscribe to Confident Computing for more tips, tricks, and occasional tales of how I've altered my lifestyle to accommodate the corgis.
Less frustration and more confidence, solutions, answers, and tips in your inbox every week.
Podcast audio

Download (right-click, Save-As) (Duration: 7:20 — 7.2MB)
Subscribe: RSS