In all desktop PCs there is a battery – what is the purpose of this battery and how long does it last before it has to be replaced? Does the replacement of this battery affect the BIOS of the computer? I've had a PC for 6  years now and never replaced the battery.
Actually all PCs, desktop and laptop alike, have a battery like this, typically referred to as the "CMOS" battery. It serves an important function, even though it's actually possible on most machines to run without
one … which quickly becomes annoying.
The good news is that, as you've seen, they typically last for years.
"CMOS" stands for "Complementary metal-oxide-semiconductor", the original technology that was originally used in some of the circuitry that the battery was used to power. While no longer the case, the term "CMOS" or CMOS battery lives on anyway.
The purpose of the CMOS battery most often today is simply to allow your computer to remember what time it is. I think of it as a glorified watch battery. If the battery dies or is removed, then when your computer boots it will have forgotten the current date and time.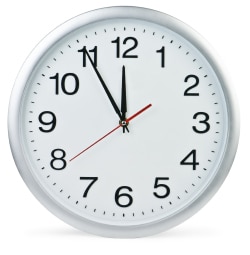 Typically the CMOS battery no longer affects whether or not BIOS settings are remembered. Most of those settings are kept in a type of dedicated flash memory, not unlike the kind that might be inside a USB flash drive. In the past, back when the battery was actually powering "CMOS RAM" to retain those settings removing the CMOS battery would cause your BIOS to lose not only the date and time, but also any customizations you might have made to the BIOS configuration.
The reason you still need a battery is very simple: no matter what happens to the computer, be it unplugged or turned off, the clock needs to keep running in order to keep track of the current time.
"
I think of it as a glorified watch battery. If the battery dies or is removed, then when your computer boots it will have forgotten the current date and time.
And that's by far the most common symptom: one day you boot up your machine and it think's that it's January 1, 1980, or some other random date years in the past. That's when it's time to replace the battery.
For the record, I've never proactively replaced the battery. I just wait until it dies, and replace it then. These batteries last so long that more often than not the computer is old and no longer in service anyway by the time that happens.
On desktop PCs the battery is typically relatively easy to get at and replace. All you need do after removing power is open the case and look on the motherboard and it's likely there.
Laptop users have a harder time. Not only are laptops typically not designed to be easily opened, the components are often in hard to reach places. It's not uncommon to partially disassemble a laptop in order to reach the CMOS battery. I did have one case where I just let the battery die and didn't replace it … it was too difficult.
I've avoided a lot of specifics because, quite frankly, the specifics vary tremendously from manufacturer to manufacturer, and even from battery to battery. Some might last a year or two, others a decade. Some BIOS will lose only the time, others will lose more. Some machines are designed to make it easy to replace the battery, others not so much.
My advice: don't worry about it until your PC starts losing the current time and date on every boot up. Then check with your computer's manufacturer for instructions on replacing the CMOS battery, and which battery to replace it with.