My
Outlook PST file
is huge! It takes forever to back up, and is just generally incredibly unwieldy. How can I make it smaller?
Outlook PST files are Outlook's repositories for email, contacts, calendar information, and much more. (Not to be confused with Outlook.com or Outlook Express – those are completely different and unrelated products.)
Outlook PST files can become very, very large if you're not paying attention, and practical considerations like speed and backups often make us want to control the size well before reaching that stage.
1. Back up
If you're like most people, your life is in your your Outlook PST file: your contacts, your calendar, not to mention your email.
So it makes sense that before we do anything that changes how we deal with the PST, we should make sure that just in case something goes wrong, we're backed up.
Now, that can be a problem if one of the reasons you're looking to make it smaller is because your backup program or method can't handle it.
So, at a minimum, simply close Outlook, locate your Outlook PST file, and make a copy of it somewhere else. If anything goes wrong, you can copy it back later. Once you're satisfied with how things are working, you can delete that backup copy.
2. Delete what you can
This step is pretty obvious: delete what you can.
Remember though, when you delete an item in Outlook it is simply moved to the Deleted Items folder – which doesn't actually free the space until you empty it. So right click on the Deleted Items folder and select the Empty Folder to permanently delete its contents. This will free up the space that the deleted items took up.
But it will not immediately make the file smaller. More on that below.
3. Archive what you can't delete
Outlook can happily have several PST files open. If you don't want to actually delete email, an alternative is to move it to a different PST file.
My approach for many years was to create a new archive Outlook PST file at the beginning of each year. Into that PST I would move all of my Sent Mail (often the largest folder by then), as well as anything else I wanted to save into this other PST. If it was something I expected I would refer to frequently, I'd leave the archive PST open, and it would simply be there each time I started Outlook. Otherwise I'd close the PST, just knowing that it was there if I needed it.
To create a new Outlook PST file, begin by selecting File and then the Account Settings button followed by the resulting Account Settings… drop-down menu item: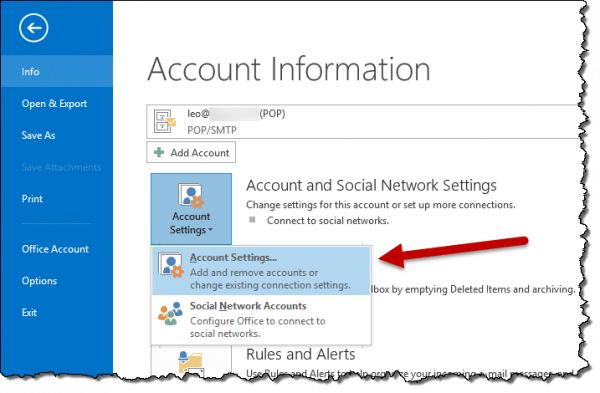 Then click on the Data Files tab and then the Add… button: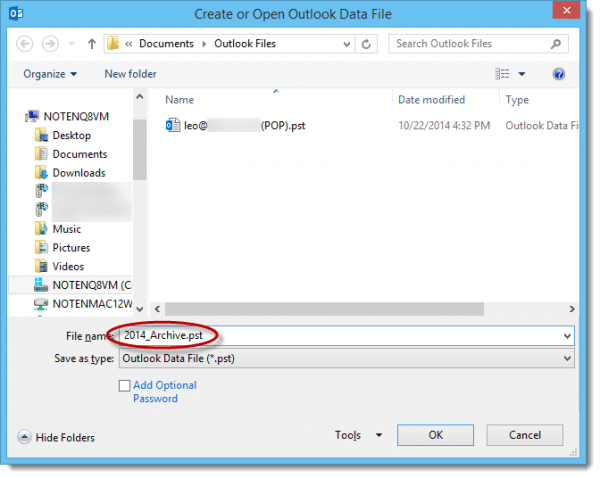 In the example above, I've left the default location (where the existing PST lives) as the location for my new PST, and given that new PST a name "2014_Archive.pst". Click OK.
The new PST will show up in the Account Settings dialog which you can now close.
More importantly, the new PST will appear in the folder pane: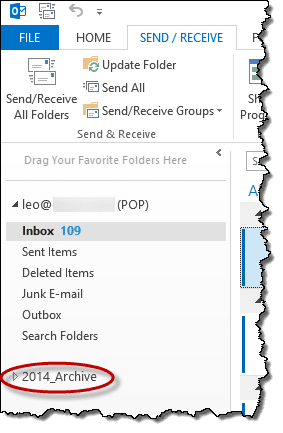 You can now expand it, create sub folders in it, and drag and drop messages from your old PST into your new one.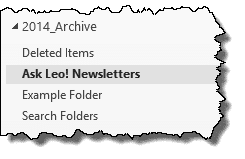 Your new PST will automatically show up each time you open Outlook. You can explicitly close it if you like. Right click on it, and select Close: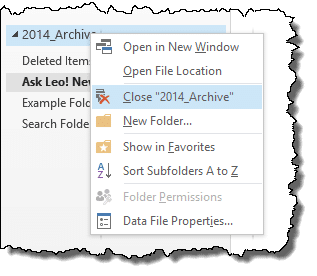 This may speed up Outlook's start time somewhat. To open it again later, select File-> Open-> Open Outlook Data File….
4. Compact
After you've permanently deleted or moved what you can, it's time to actually remove the space used by those permanently deleted items by compacting your Outlook PST file.
Right click on the PST you want to compact (typically the default one from which we've moved out all these messages), and click on Data File Properties…: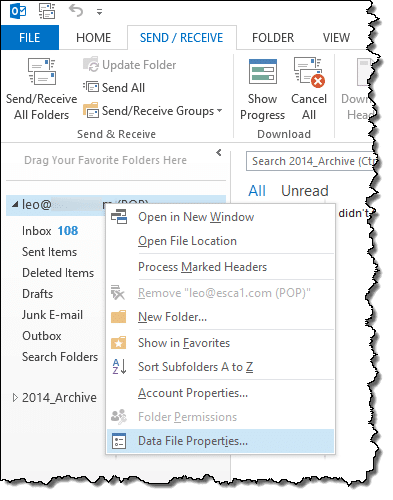 In the resulting dialog click on Advanced… and in the next dialog click on Compact Now: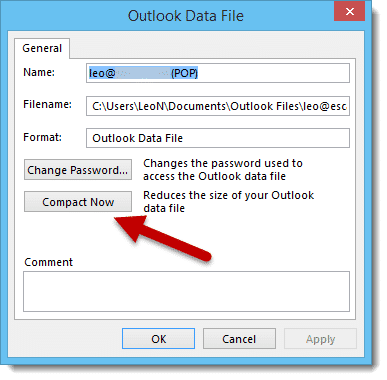 Warning: depending on the size of your PST, compacting could take hours. Be sure not to interrupt the process.

If the resulting Outlook PST file is still too large, then it's time to consider a different organization of its contents that allows more to be moved out to other archival PSTs.

Podcast: Download (Duration: 5:34 — 2.4MB)
Subscribe: RSS