How do I get my name, title and other information to show at the bottom of every message I send?
What you need is called a "signature".
What's a signature? It's the title, company, phone number, fax number, email address, pithy quote, legal disclaimer, website URL, list of website URLs, call to action, and/or dashed line that many people put at the bottom of every message that they send.
Sometimes, their signature even includes their name.

My signature
That's the standard signature I place at the bottom of many of my emails.
While a keyboard macro or other shortcut is one way to do so, many email programs have the ability to set up a signature automatically.
Signatures in Outlook.com
In Outlook.com Options, under Writing, Formatting, Font and signature is an option to define the signature you'd like.

Just type your signature as you'd like it to appear at the end of every message you compose.
Signatures in Outlook
In Microsoft Office's Outlook (2016 in this case), in File, Options, Mail, click on the Signatures… button.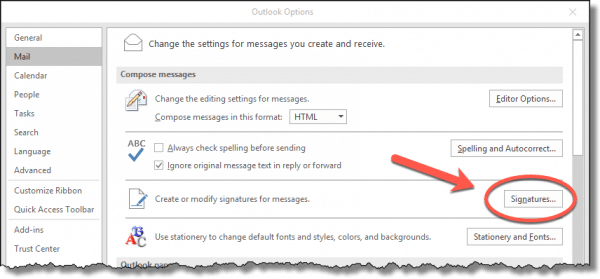 This will bring up an interface for adding, editing and managing multiple signatures.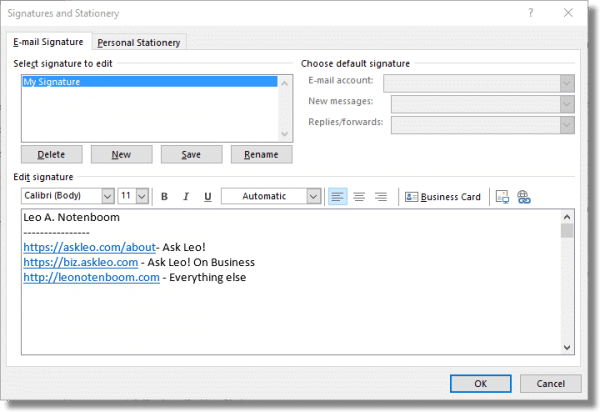 Signatures in Thunderbird
Thunderbird maintains signatures in the settings for each account. In Tools, Account Settings, click on any account in the left-hand pane, and the right-hand pane will include the settings for a signature.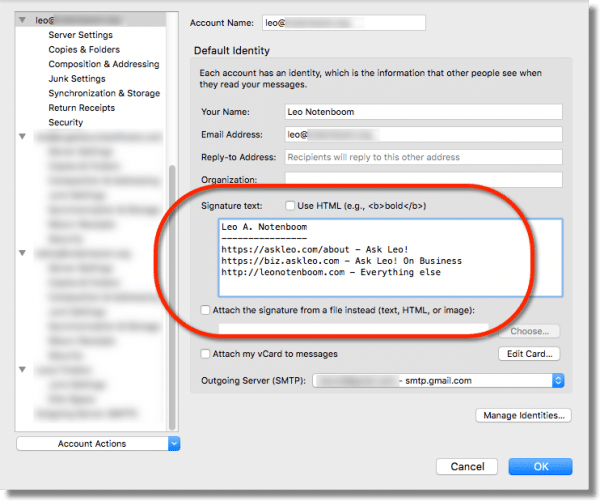 Signatures
Signatures are a great way to make composing your email a little easier, and are often recommended as a acceptable way to promote a business or cause. My only caveat is this: keep them short and simple – especially when you email to discussion lists. Long signatures can easily get in the way of your message and unnecessarily clutter up message archives.
But do include your name.