How can I keep someone from contacting me in email or instant messaging?
Severing communication is an unpleasant necessity at times. For personal or legal reasons you may want someone to stop contacting you or someone you know. The rub is that you'd like everyone else to be able to contact you as before.
We can't control what other people do, but there are some ways we can either make it more difficult to be contacted, or automate the process of ignoring the contact attempts.
A new email address
For email, the most radical solution to keep someone from contacting you is to change your address. Specifically:
Create a new email address or email account.
Begin using it as your primary email address.
Tell all your friends, businesses and acquaintances.
Don't tell the person you're attempting to block.
Stop paying attention to the old email address.
That's a fairly harsh solution, because as you can see, it means that you tell everyone from whom you want email to change how they contact you. And of course, some stragglers won't get the message, and you'll lose contact with them when you stop paying attention to that old email address.
Automate ignoring them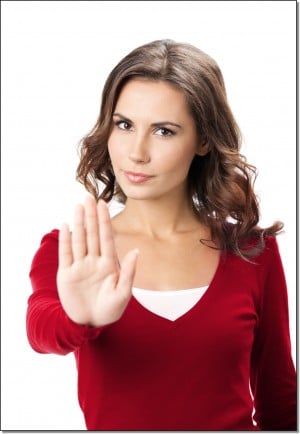 A more realistic solution, perhaps, is to automatically ignore them. Set things up so you never have to see the email that they send you.
Most email clients have the ability for you to set up rules or filters that will take action on an email when it arrives. So use your email program to set up a rule that says, in essence:
if mail is from this person
then delete it immediately
The person can continue to send you email, but you'll never see it, and they'll never hear back.
If your email client doesn't have rules or filtering built in, then you might check with your email provider. Many offer web-based access, and quite often that includes rules or filtering as well. By setting up a filter directly with your ISP, the email you filter out will never even be downloaded.
Accept email from your address book only
As another almost draconian measure, many email services as well as some mail clients have a spam filtering option that allow you to reject email that isn't from an address in your address book. This means you'll accept email only from people you know. Set that up and remove this person's email address from your address book, and their email will be rejected (whether or not they hear about it depends on your particular email provider).
There are serious drawbacks to this approach, since there's often a lot of legitimate email that arrives from addresses you don't know beforehand, such as confirmations of online purchases or other business correspondence. Heck, it could be someone you just met but haven't yet added to your address book.
But it can be an extreme solution.
Treat it like spam
If much of what I've just described sounds familiar it should; these are similar to many techniques used to fight spam. Fighting spam is, when you think about it, all about keep someone from contacting you.
In both cases you're receiving unwanted email. The only difference is that in this case you know who's sending it.
So as a last resort, you could just mark the unwanted email as spam. Eventually your spam filter should "learn" that email from this person is unwanted and filter it automatically for you.
The down side is that you're telling the spam filter that "email from this person is spam" – which may be used to prevent that person's mail from being delivered to others as well.
Podcast audio

Download (right-click, Save-As) (Duration: 4:13 — 3.9MB)
Subscribe: Apple Podcasts | RSS