There's a common misconception that it's easy to trace an IP address to the computer to which it's assigned, and be able to identify the computer's location.
It's certainly not easy, and depending on who you are, it may not even be possible.
IP Addresses
An IP (or "Internet Protocol") address is the unique number assigned to every device connected to a network. They are used to route data between devices. Much like your mailing address identifies the physical location of your mailbox and tells your mail carrier where to deliver your mail, a device's IP address tells the internet where to send the data destined for your computer.
But while an IP address is like a physical address, it's important to realize that it isn't one.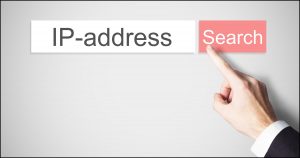 IP addresses are based on your internet service provider, not on where you are. For example, the IP address assigned to your computer at home will be radically different than the one assigned to your neighbor next door if you use different ISPs. Even if you do use the same ISP, there are no rules or practices that would make your IP addresses appear "close" to one another.
While technically inaccurate, the best way to think of it is that IP addresses are assigned at the whim of the ISP providing the internet connection.
Movies and TV shows lie
Television and movie dramas lead us to believe that given an IP address, a criminal can be located in minutes.
It's nowhere near that easy.
Public information about an IP address tells you which ISP provides it, and not much else.
Some additional information might be available to indicate the area where the IP address resides, but that is rarely more specific than what country, or perhaps what city, it's in.1
As we saw above, the ISP holds the key. The ISP that "owns" the IP address assigned to your computer also knows where you live; that's where they send your bill or hook up the wires.
Most ISPs adhere to a strict privacy policy that prevents them from disclosing that information. That's why you may be able to identify the ISP involved and nothing more.
For more, you need help.
Enter the courts
Police and the courts can, with appropriate cause, request or even demand the location connected to an IP address.
Typically2, that means that law enforcement professionals go to a judge and provide evidence of reasonable cause that a crime has been committed, at which point the judge issues an order compelling the ISP to release the information.
If there's nothing to suggest a crime has been committed, then in theory even law enforcement cannot get the information.
This puts those victims of cyberbullying and other forms of online harassment at a disadvantage. As long as the activity is technically "legal", there's little that can be done to trace the offender. Fortunately, many locations are passing laws that  address these situations more directly and allow law enforcement to trace offenders.
Privacy is a two-way street
While it's certainly important that IP address locations be available when needed, privacy is also an important concern. Since your computer's IP address is available whenever you use the internet, you don't want someone random to use it to locate you.
ISPs are important gatekeepers of that privacy.
The reality is, an IP address does uniquely identify a connection to the internet, and that information can be used to determine a physical location.
The myth is that it's easy. It's not. Important privacy practices prevent that level of detail from being available to the general public. Typically ISPs and law enforcement must be involved.
Podcast audio

Download (right-click, Save-As) (Duration: 4:09 — 2.0MB)
Subscribe: RSS
Footnotes & References
1: That implies services claiming to be able to pinpoint the location of a specific IP address using only publicly available information are misleading at best.
2: This will vary depending on the laws where the ISP is located, and perhaps in the location of the IP address in question as well.