Question: I use a surge suppressor and an uninterruptible power supply (battery backup). I live in the southeastern US, and we're prone to summer thunderstorms. My wife works for the State, and they never unplug their computers. I shut down and unplug everything from the wall socket when we have a close storm. What would your recommendation be? Or is that an unanswerable question unless you're here?
It may be unanswerable, but I won't let that stop me from trying.
I certainly can't give you a blanket "do this or that" answer, as the specifics of the situation really do play a large role in the solution. But I can tell you what I'd look at when I decide how far to take it.
Let me start by describing what I do. My situation is different than yours, but I think the process leading to my solution is a good example of the kinds of things that need to be considered.
It starts with a UPS
The biggest risk I run is my power suddenly going out due to a downed powerline. Around here, it's not uncommon in fall and winter windstorms. Power flickering is even more common.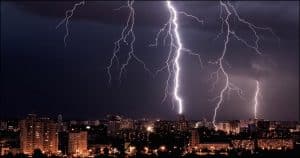 I run one of my computers and some equipment through an uninterruptible power supply (UPS). The UPS provides the bare minimum needed to keep my network, Wi-Fi, and internet connection up, plus one computer. My laptops and mobile devices, by virtue of being battery-powered themselves,  have their own built-in UPS in a sense, and need no additional power-loss protection.
I do this to maximize the time the UPS can keep this equipment running — probably an hour or two. It keeps those laptops and mobile devices usable. All other machines go dark during a power outage. I do ensure that those machines are connected through a surge protector to protect them from power spikes and surges.
It actually starts with a backup
I don't lose power often — perhaps once a year for an hour or two at most1. When the power goes, it typically goes down "cleanly", meaning it's pretty close to turning off a switch.
And yet … one year, a power outage wasn't so clean. The power went down "roughly" — low and high voltage spiking and dipping before it finally went away completely. I lost one of the hard disks on a machine that wasn't on my UPS.
Yet I lost no data.
The tradeoff I make is to rely first on my backups. These allow me to recover from many types of failures, including hard disks that fail for any reason. Since I need backups anyway, I choose to rely on them rather than investing in a larger UPS.
As I said, I lost no data; I simply replaced the drive and restored the data from backups.
If my power were more frequently unstable, I might choose a different tradeoff. As it stands, losing a drive to a power hit every few years is less costly overall than a bigger UPS, as long as there's no data loss.
You might start elsewhere
Being in a lightning-prone area means your risks and the resulting tradeoffs are different than mine. Rather than the power simply going off, your risk might be a direct lightning strike, or even the power suddenly spiking very high prior to going off. Either is likely to do damage.
At a minimum, I'd invest in a good surge protector. I know you said you have one, but I want to be clear it needs to be a good one, not a cheap one such as those I can get away with here. You need one that's rated to handle the side effects of lightning strikes.
A good surge protector is, in my mind, the 90% solution to your situation.
My personal take is that a UPS may be optional for you. They can be expensive, and you need to trade that off against the risk and frequency of the power going off. Part of the tradeoff also is the risk of data loss, but you can protect yourself as I have, with a sound backup strategy.
Once surges are taken out of the equation, simply losing power while your computer is running isn't a huge risk. Don't get me wrong, it is a risk, and not something you want to have happen frequently, but it typically boils down to a data-loss risk as opposed to an equipment-damage risk. Most equipment can handle the power just "going away" without much problem.2
The bigger picture
There's more at stake than just your computer. For example, you'll find that your telephone landline3 almost certainly goes through some kind of fuse or surge suppressor already. And of course, we've all heard stories of TVs or microwaves being damaged by exceptionally close or direct lightning strikes.
It's possible that your wife's office doesn't need additional protection because they're already protected at some common source. This is well beyond my expertise, but I theorize that buildings (or segments of buildings) might already be protected with surge suppressors prior to the wall outlet. Some even have battery or generator backup as well.
Of course, it's also possible they have none of that and a nearby lightning strike will render several electrical devices inoperative.
I hope they have good backups.
It also ends with a backup
Hardware can be replaced. Often, data cannot.
No matter what protection you have in place for your hardware — be it a UPS to protect from power loss or surge suppressors to protect from power spikes and lightning strikes — backups are critical.
If your hardware fails for any reason — even if a minor power glitch causes a disk to suddenly become unreadable — a current backup can save you from catastrophic data loss. In fact, the number of scenarios in which a backup can save you goes well beyond power problems.
Having current and complete backups really is the closest thing to a silver bullet when it comes to computing.
Podcast audio

Download (right-click, Save-As) (Duration: 6:07 — 5.7MB)
Subscribe: RSS