How do I stop my homepage from changing?
The Home page is nothing more than the web page that automatically opens when you launch your web browser or hit the Home button in that browser.
Now, I'm going to assume that you've actually set this page to what you want it to be. If you haven't set this up, I can't really give you the steps as they're different for each browser program. (Though How do I change my browser home page back to what I want? has instructions for a couple.)
For our purposes here, let's say that you already set the homepage, but something is changing it. There are a couple of reasons why this might be happening.
Reason #1: Your security software changed it.
Believe it or not, your security software could be the culprit. Many anti-spyware tools have built-in protection to prevent malicious software from changing the homepage. If you set the homepage after you installed your security software, it may have prevented you from changing the homepage.
Check the settings in your anti-malware package relating to browser home page protection. It might have been protecting you … from you!
Reason #2: Malware did it.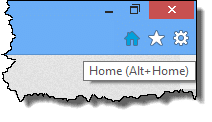 The most common reason is simply that there is malware on your machine that maliciously resets your homepage to something else every time you change it. There are variants on this these involving everything from getting truly malicious software onto your machine to (more or less) benignly redirecting you to other sites from which the malware authors make money.
Regardless of why, if malware is the cause, then you'll want to do two things.
Remove that malware. Check out my "How do I remove malware?" article. The steps here range from simple to  fairly extreme. Hopefully you'll not have to go to the extreme end to remove the malware. Ultimately, running a program like Malwarebytes will usually clear this issue up pretty quickly.
Make sure that you're running security software to prevent this kind of malicious behavior in the first place.
If you're not sure what to use, I recommend that you read "What security software do you recommend?" These tools should prevent this from happening in the future. But generally, if your browser Home page keeps getting reset to something else, then it's usually a sign of malicious software on your machine. Treating it like malware and removing it are the best things to do.