Question: About a week ago, something shut my computer down and now demands $100 to unlock it. How do I unlock or delete this and use my computer? I use Windows Vista.
What you are experiencing is called ransomware.
Ransomware basically holds your computer, your data, or some part of your machine hostage until you pay them money or do whatever it is they ask of you to do.
Following their instructions, paying the ransom, actually may or may not unlock your computer. The creators of ransomware may just extort money out of you and then do nothing. You'll still be left with an unusable computer.
There are a couple of different things that I strongly recommend you do.
Restore from your backup
Backing up really is the best thing that you could have done to protect your machine. That way, when the ransomware appeared, you could have simply restored your machine to the backup from before this infection happened.
You'd be back in business and you would know not to do whatever it was that allowed that malware to get on your machine in the first place.
No backup? Start with malware removal
Without a backup, you need to revert to more general malware removal techniques. I have an article called "How do I remove malware?" that tells you first to make sure your anti-malware software is up to date and then if it is, run it.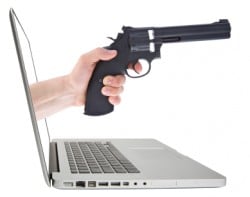 In cases where ransomware is involved, you may need to use an offline anti-malware tool, like Windows Defender Offline, because the malware may prevent you from running your anti-malware software. You may need to reboot from a disc designed to run stand-alone anti-malware software.
Have a look at Windows Defender Offline – scan your computer for malware without booting Windows – It's designed exactly for this kind of scenario.
What happens if these solutions don't work?
The worst-case scenario is actually pretty bad. If you've tried all of these techniques and the ransomware still cannot be removed, you'll need to do either a repair install or a complete reinstall of Windows itself.
But hopefully, this isn't the case. Take a look at the "How do I remove malware?" article, which should hopefully take you through steps that will let you avoid that horrific outcome.
And please, consider setting up a backup so you never have to run that risk again.