I'm building myself a new Windows 7 machine. It will have a 250 GB Solid State Drive; a 1 TB SATA 3 hard drive and a 250 GB IEE HD. I assume the OS will be on the Solid State Drive but what about the other programs? Will a dynamic partition be better? Does the 1 TB need to be only backup? Can I run the OS only from the Solid State Drive and programs from the 1 TB drive?
I'm not really sure by what you mean by IEE HD, but I do have some ideas on how to set this thing up. You can, of course, do whatever you really want and it will probably work just fine, but here's the approach that I would take.
Solid State Drives are for speed
First, remember why we like SSDs: speed. Specifically, speed when reading data from a solid-state drive is significantly faster than from a traditional magnetic hard disk, so the things that you need to read often are best placed on the solid-state drive.
Typically, that means you'd install Windows as well as all of your applications to the solid state drive. A 250 GB SSD should be plenty unless you're doing something really huge.
For example, I'm running Windows 8.1. I have several very large programs including things like World of Warcraft, and they're all installed on my solid-state drive. They take up 98 GB, so I've got plenty of room. And again, they all load nice and quickly.
Writing to flash memory wears it out, but…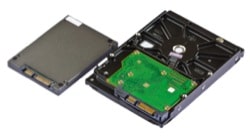 Now, the other side of the coin. Remember what we don't like about solid-state drives, and that is flash memory. To say we don't like it is a bit rough because solid state drives are typically much better than the flash memory you'll find in a USB stick, but it's something to consider.
The problem is that flash memory wears out. The more often you write to it, the more it wears out. So that fact is something to consider, and it's useful for deciding what to put where, when you also have a traditional hard disk.
Solid-state drives don't typically give you as much of a speed increase on writing as they do on reading. So I put my data files on the traditional magnetic hard disk: My Documents, the things I'm working on, virtual machine images, all that kind of stuff. Whereas on my solid-state drive, I have all of my applications and the operating system.
Backup drives
You also mentioned backing up. To be clear, proper backups should not be on any disk that's inside of your computer. Backups, particularly disk image backups (which I recommend), belong on an external hard drive or some other storage elsewhere on your local network. The reason is that if your machine fails it could fail in such a way that all of the internal drives become damaged. If that's where your backups are, then you're left not only without a machine, but without any of your backups.
External hard drives connected via USB could theoretically be compromised in a system failure, but they're not nearly as susceptible as internal drives if for example, a power supply goes.
Offhand, I'd say you have a lot of storage on that machine. Operating systems and programs on the solid state drive, data on the internal hard disk, then backups on an external hard drive are how I'd go about setting it up.