I'm very tempted to simply say you can't.
It's exceptionally difficult to do. Windows stores so much information in so many nooks and crannies, it's nearly impossible to know what to delete and from where.
Let's look at a couple of approaches.
The nuclear option
By far the safest approach is to wipe the machine and reinstall Windows 10 from scratch. That's really the only way to be certain.
You'll have erased absolutely everything — Windows, installed programs, data — and, most importantly, every scrap of personal data that might be on the machine. It's all gone, guaranteed.
That's what I recommend you do if at all possible.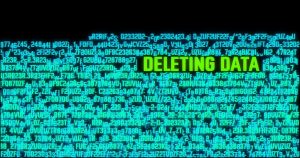 Particularly with Windows 10, you won't need to worry about activation — that's tied to the hardware. All you'd need to do is download a Windows 10 installation disc, boot from it, and install, making sure to erase the hard disk as part of the process.
The downside, of course, is that everything will be erased, including the non-personal data. All the installed programs will be removed, for example.
Such is the cost of safety.
The least worst less-destructive option
If you don't like the idea of a reformat-and-reinstall, the only solution I'd consider would be the following sequence:
Create a new Windows user account with administrative privileges.
Log out of your existing account and log in to the computer using that newly created account.
Delete the old account completely.
Once you've done that, definitely take the time to scour the machine for additional data you might have placed outside of Windows default locations. In particular, look at the various applications you have installed on the machine, and see where they have been storing data. You may find it in several different places.
Unfortunately, there's just no guarantee that absolutely everything you might consider to be "personal data" is removed.
Are you sure you wouldn't rather just reformat and reinstall?
Podcast audio

Download (right-click, Save-As) (Duration: 3:29 — 1.7MB)
Subscribe: RSS
Video Narration