I'd like to reinstall Windows XP on one PC and Windows 7 on another. Both have become very slow and I've done almost everything written about to speed them up. I have the original discs for them. However, what I don't have are the discs for much of the software. I read your articles on that so I'll be getting discs in the future. So, how can I reinstall Windows as well as the software on the PCs? On the XP PC, I really only want to keep Office 2007.
On the Windows 7 PC, however, I have the disc for Office 2007 Pro but not for several software packages that I bought and downloaded. One in particular was actually expensive – Dragon Naturally Speaking. I installed Macrium as you suggested. I wasn't sure from your articles if I could somehow use the backup from Macrium to reinstall just the software. I found some freeware that allowed me to obtain the keys to some of the Microsoft software on the PCs but for no other legitimate third party software. Mainly, I want to keep Nitro PDF Pro, Wondershare Video Converter and Dragon Naturally Speaking. Everything else I can probably live without even if I bought it.
The very short answer to your dilemma is that strictly speaking you can't do what you are trying to do. I'll review how to prevent this in the future at least, and throw out a couple of ideas or straws you can grasp at.
Start doing this NOW
Prevention boils down to a very simple rule: save what you buy.
If you buy discs, then save those somewhere safe.
If your discs use activation codes, make sure that those codes are saved somewhere somehow. I personally use a spreadsheet that I keep in a True Crypt vault, which is backed up daily.
If you're purchasing downloaded software, save the download. (This is where most people trip up.) Copy it somewhere and make sure that that gets backed up as well, wherever things get backed up.
"

if you buy it, save it; and if you save it, back it up

The same is true for the email that contains things like your registration code and proof of purchase. This is all stuff that you've purchased; stuff that you need to save should you ever need to reinstall the software again, as you're finding out.
The rule is really, really simple: if you buy it, save it; and if you save it, back it up.
Getting something to reinstall
For some of the products you mentioned, it might be possible to go back to the original vendor's website and download the version that you have, even if it's an older version. This will work well if you saved or recovered any activation code that might be required.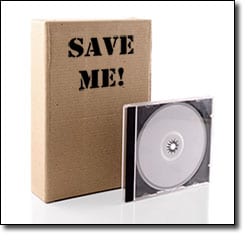 For Dragon Naturally Speaking in particular, I would have you contact their customer support people to see if perhaps they have a record of your original purchase and if they can point you to a download of that same version. Definitely review your email history to find out if you have the original purchase information. Sometimes even those old download links will still work. If not, you may at least find important information like the original product number.
Even if you can't find a record of your purchase, you can still try contacting the vendor, particularly if you haven't changed email addresses in the interim. Sometimes, if they can look you up in their records, they may be willing to resend your original purchase.
There are utilities like Laplinks PC Mover that claim to be able to move an installed application from one PC to another. They're not free, and I'm unclear how reliable they are. I'm also unclear on whether they'll work in a reinstall situation like this. But they're worth investigating.
The bottom line though is to keep those downloads in the future. And those registration keys. You just never know when you might need them.