The process of printing webpages is more often than not completely broken.
When you try to print a page, you get a confusing jumble of parts of the page, advertisements that overlap the text that is there, text that is way too large or too small, and pages and pages (and pages and pages) of output for a single, simple page.
And many of my Ask Leo! sites are just as guilty as the rest of the web.
The good news, for me at least, is that some are not, and I'm slowly switching to technology that should make things better.
The bad news, for you, however, is that many sites remain broken when it comes to printing. And email remains its own special mess.
Printing as an afterthought
Most websites must be explicitly designed to print properly. Sometimes it's done by the software used to create the site, but usually there's work required to make it happen, or at least make a specific site's printed result look presentable.
Needless to say, many sites don't expect you to print their pages, so they don't go to the trouble. They format their content to be consumed online. Even if that expectation is wrong, when prioritized against other work the site's owners have to do, printing pages cleanly often doesn't make the cut.
Sadly, it's not trivial work.
Printing and Ask Leo!
As I said, I'm guilty. As I write this, some pages on askleo.com print poorly — particularly those with embedded video.
It takes not just work but vigilance for printing to work properly: it used to work well on my site, but it's been neglected and fallen into disrepair.
As part of a technology upgrade in the background of Ask Leo!1, I'll be revisiting the site design with printing in mind. Other sites — newsletter.askleo.com and biz.askleo.com — have already been updated and seem to be printing better.
How to print without burning through paper
"Save as PDF" is printing. If you are viewing a webpage (I'll discuss email below), type CTRL+P to print, and select the "Save as PDF" option before you hit Print.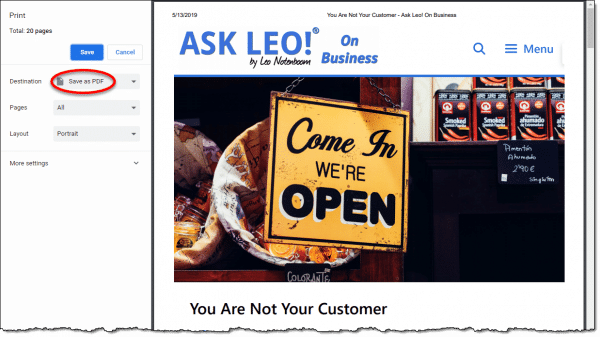 PDFs are created by printing through a virtual printer, so all the foibles associated with printing will quickly become apparent. You can save the PDF and browse through it in a PDF viewer, but the preview may tell you everything you need to know about whether that website prints properly or not.2
If it looks good and you want it on paper, switch the printer to your "real" printer and print again.
If it doesn't look good, decide if it's "good enough" or consider alternatives, like copy/pasting the content into a word processor and formatting it so it prints acceptably.
Printing and email: confusion reigns
If you use a downloaded email program installed on your computer (like Microsoft Office's Outlook, or Thunderbird, or even the Mail program installed in Windows), you're as set as you can be. Most of these programs attempt to do the right thing when printing email and generally succeed.
The problem is webmail, which uses your web browser (Edge, Internet Explorer, Google Chrome, Firefox and others) to read your email at Outlook.com, Gmail.com, mail.yahoo.com, and others.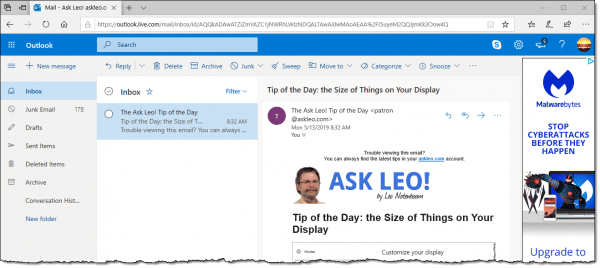 The tempting thing to do is to hit CTRL+P to print the message. Unfortunately, by doing so you've instructed the browser to print the webpage you're looking at, and everything you see on it: the message as well as your email programs' interface, folders, and any advertisements that may be on the screen.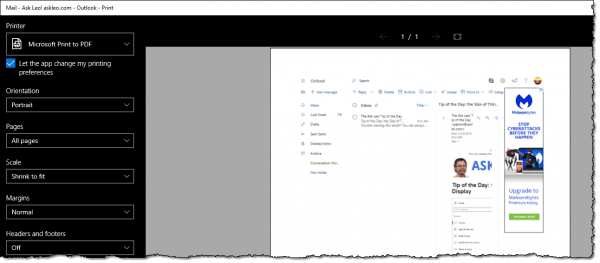 The right thing to do is to look for some kind of a print icon or function not in your browser, but in your email service.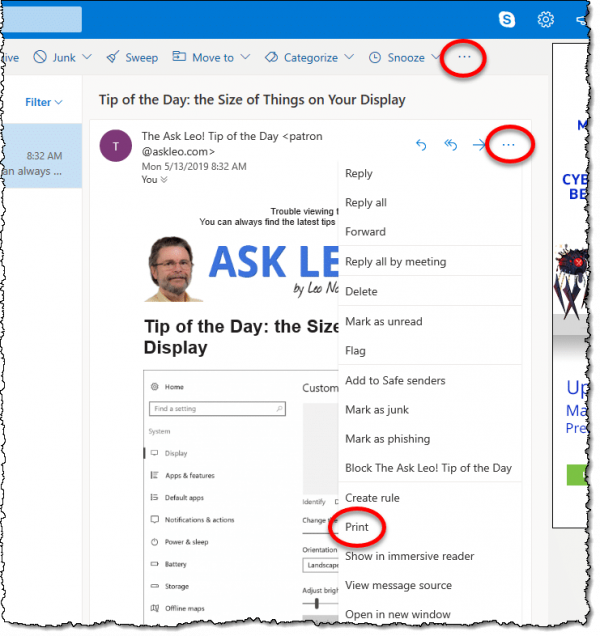 In the case of Outlook.com, there's a "Print" option within either of the ellipsis ("three dots") menus. Click on that, and a new window will pop up containing only the email message, formatted for printing.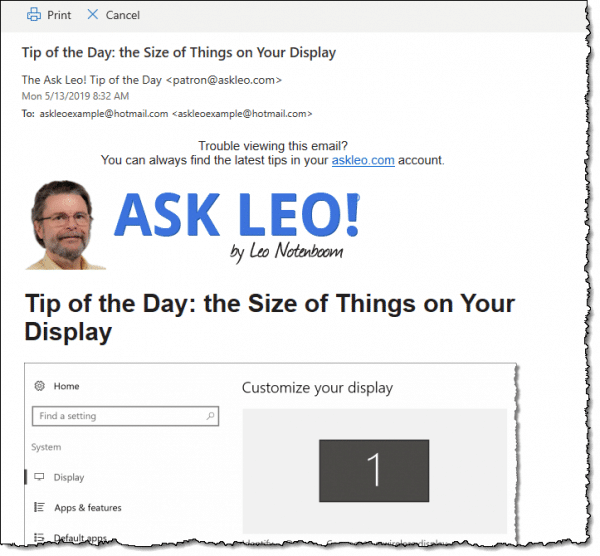 Print that, using your browser, and the result will be only the message.
Email alternative: go to the webpage
Many, many emails have a line at the top or the bottom to the effect of "Email not looking right? Click here to view in your browser." In addition, many emails — including most of my own — include links back to the articles they contain on the sender's website.
Rather than attempting to print the email — particularly if results there have been poor — click through to the email or article on the website and try printing it from there.
This brings us full circle, to websites that may or may not have done the work to make sure their pages print properly, but it ensures that we've tried all the options to get the best print-out we can.
Podcast audio

Download (right-click, Save-As) (Duration: 5:37 — 2.6MB)
Subscribe: RSS