I purchased a computer at garage sale but they did not know main password. Is there a way I can get this free? Hope I did not throw my money away.
I'm going to assume that by "main password" you mean the Windows log-in password.
I'll show you how you can bypass that on most computers and set your own – it's really not that hard.
Then I'll tell you why you really don't want to do what I suspect you're planning to do.
You probably have a very useful machine, even if you can't log in to it right away.

The used computer
To clarify the scenario a little, you've just picked up a previously owned computer.
The machine has some version of Microsoft Windows already installed on it, presumably belonging to the previous owner. It's asking you for a log-in password, and of course you don't know what that is.
To answer your immediate question: I can't get you the password, but you can probably set your own. This article will walk you through the steps to reset the administrator account password and gain access to the entire Windows installation: I've lost the password to my Windows Administrator account, how do I get it back?
Having said that, I strongly advise you not do so.
Fear of the unknown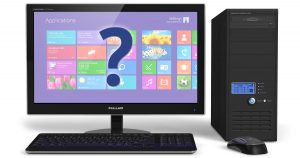 Here's the problem: you have no idea what's on that machine.
Sure, it has Windows.
It could also have lots and lots of malware. The machine could be thoroughly infected with viruses and spyware.
Or worse.
And even with all the anti-malware tools in the world, there's simply no way to know – I mean really know – if you've successfully cleared it of all infections.
Obligatory legal weaseling
I also have to point out that taking that copy of Windows as your own may actually be illegal. (And of course, the obligatory caveat: I'm no lawyer; this is just my personal understanding of the landscape.)
Many machines – particularly OEM machines purchased directly from a manufacturer with Windows pre-installed – come with a license that restricts that copy of Windows for use on that specific machine only, and quite possibly only to the original purchaser.
There are many variations on Windows licensing agreements, and they've certainly changed over time, but it's yet another reason to consider a safer approach.
The safer approach
The only practical thing to do, and the only safe thing to do, is this:
Run a tool like DBAN to completely erase everything on the hard drive.
Reinstall Windows from scratch.
That means either you need to have the Windows installation media that came with the machine when you purchased it (if the license allows for that transfer of ownership), or you should plan on purchasing a new copy of Windows to be installed on that machine. (If the cost is prohibitive, you might also look into free alternatives like Linux.)
Do not rely on pre-installed Windows on a used machine. It's not a way to get Windows, and it's simply not safe.
The view from the other side
As I said, you don't know what's on that machine. It could have tons of illegal content on it, malware, or … it could have sensitive data that the prior owner should have erased.
Don't be that prior owner.
When it comes time for you to dispose of a machine, make sure to completely erase the hard disk before getting rid of it. Once again, DBAN is my recommendation.
Too many machines found in flea markets, garage sales, or on Craigslist accidentally have buckets of personal and sensitive information the prior owner simply "forgot" to remove.
Don't be that person.
Podcast audio

Download (right-click, Save-As) (Duration: 4:56 — 4.6MB)
Subscribe: RSS