Question: How can I get rid of Ask.com? It's taken over my computer and has muscled out my two browsers: Firefox and Explorer. Now everything I do has to go through Ask.com. Thanks for your help.
While it might seem that it's taken over your computer, it's more than likely it's taken over something much simpler: your browser.
Whatever happened to Jeeves?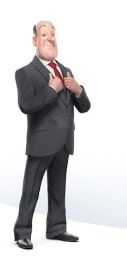 Ask.com is a simple search engine with a long history. Originally, the site was called "Ask Jeeves", with its iconic butler persona encouraging you to simply ask it your question.
While the current site is fairly bare-bones, a lot has transpired between its origin and today. That history includes a period of fairly aggressive marketing that "forced" the ask.com webpage onto machines, much like we see potentially unwanted programs (PUPs) get installed today.

Given that ask.com is as simple as it is, that we're revisiting this is somewhat surprising.
The ask.com takeover
If I had to guess, I think what happened to you involved some of Ask's early marketing attempts, perhaps initiated by installing some relatively old software. It's not something I'd expect of ask.com today.
Honestly, I didn't expect to ever update or revise this article. My expectation that this whole "ask.com takeover" had faded into the sunset.
Three  possibilities come to mind.
Browser homepage
The first is that your browser's homepage has been reset to be ask.com. That way, whenever you open your browser anew, the first thing you'll see is ask.com.
That might feel like a takeover.
The fix is relatively simple: set your homepage to be whatever it is you want. My article How Do I Change My Browser Home Page Back to What I Want? covers the topic.
That is somewhat common. You'll visit a site and inadvertently do something making that site your homepage. Every time you open your browser thereafter, that's the page that shows up first.
The ask.com toolbar
Apparently, there is still an ask.com toolbar. This was one of the more common causes of "takeover" back in the day. The toolbar installed a kind of PUP, and all of a sudden ask.com was everywhere, or so it seemed. (Again, I don't believe this is common with ask.com today, but the toolbar apparently still exists.)
In your browser, review your extensions, add-ons, and toolbars, and disable or remove any you know you don't need.
It's also worth looking in the Apps section of Settings, or Add/Remove programs in Control Panel.  Look for anything related to ask.com and uninstall it.
Could be malware, of a sort
Since this is so completely unexpected, there's a remote possibility that malware — specifically spyware — is involved. It's worth making sure your computer is clean.
Run up-to-date scans with your security software, and consider running a scan with the free version of Malwarebytes from malwarebytes.org.
Podcast audio

Download (right-click, Save-As) (Duration: 3:44 — 1.8MB)
Subscribe: RSS
Video Narration