Since the day that password protection was invented, users (and the people that help them) have been dealing with the "lost password problem." You know how it goes; you or someone you know can't log in to their account because they can't recall their password.
Take it from me, it happens. A lot.
For a long time – at least since Windows XP and probably before – Windows has included the ability to create a password reset disk that you can use in cases where you've forgotten your Windows login password.
There are a few prerequisites to using this tool. The most important one is you must create the disk before you actually need it.
What the password reset disk can and cannot do
Before we get started, let's be clear about what this thing can do.
You must create a password reset disk before you need it.
A password reset disk can only reset the password of the account for which it was created.
A password reset disk can only reset your password; it cannot reveal or tell you what the password currently is.
So if you think that the password reset disk is some magical skeleton key that'll let you reset the password to just any account at any time, then you're wrong. It can, however, reset your password as long as you made the disk before you forgot the password.
If you've ever experienced a lost password, or if you use a particularly complex and secure (i.e. hard to remember) password, you may want to create the disk before it's too late.
Creating the password reset disk
We start in Control Panel. Navigate to User Accounts. There, you'll find a Create a password reset disk link: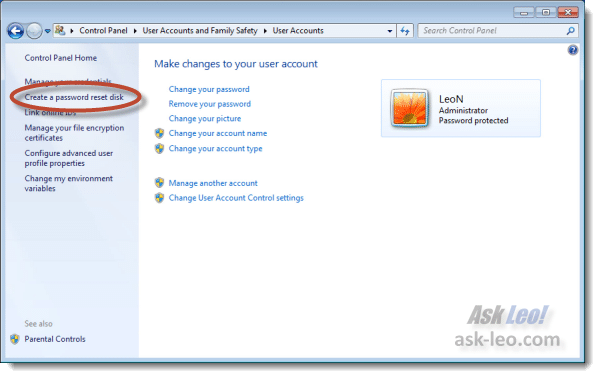 Click that and you may find yourself up against the first obstacle (as I was):

You do need to have a floppy disk (who has those any more?) or a USB drive inserted and ready. After you attach a USB drive (an inexpensive thumb-drive dedicated to this account's recovery information should do), try again and you'll get the Forgotten Password Wizard: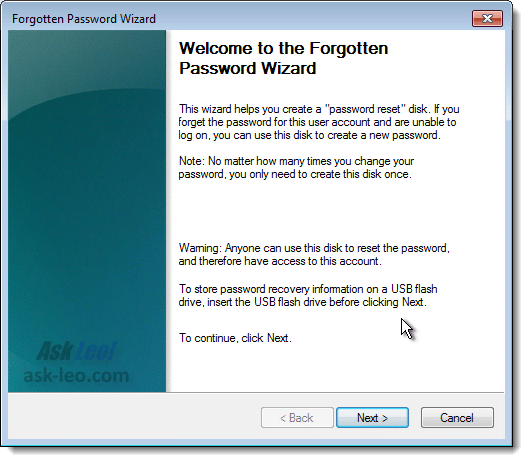 Click Next and you'll have the option to select which connected USB drive to use: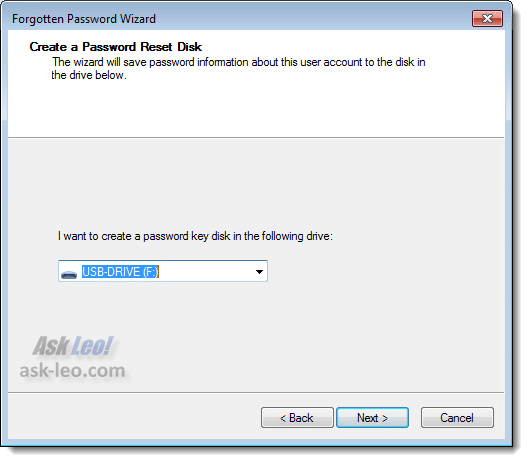 Click Next again and you'll need to confirm your password for security: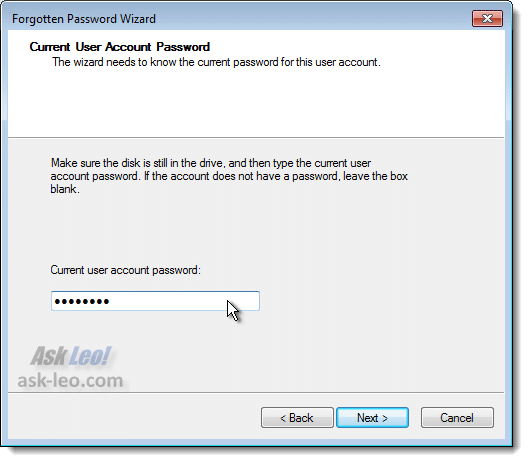 This is done simply to prevent someone from being able to walk up to your logged in machine and create a password reset disk for your account. They could then later use that disk to reset your password and access your machine. Click Next and the disk is created.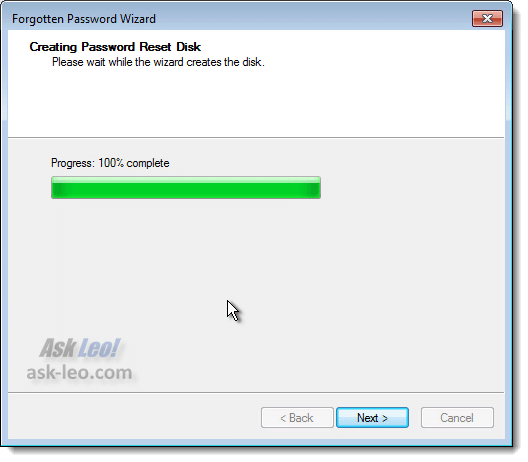 One final Next for the last page of the wizard: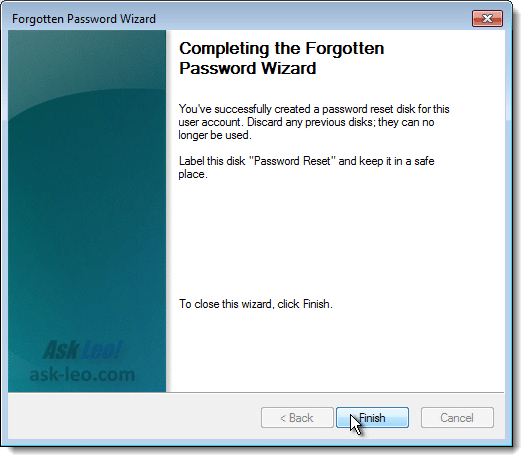 Before we even use the disk, however, we need to talk a little bit about security.
Keeping the reset disk secure
The final screen of the wizard contains a very simple, understated instruction:
Label this disk "Password Reset" and keep it in a safe place.
Label it however you like (I'd include the account login name as well), but keep it in a safe place. That is incredibly important.
Naturally, you'll want to be able to find it should you ever actually need it – that part is easy.
But think about it – anyone with this disk in their hands can reset your Windows password. In other words, having this disk is just as good as having your password. As we'll see in a moment, it's just a couple of steps to use it.
So do more than keep it in a safe place; keep it in a secure place, a place that people who shouldn't have access won't have access – accidentally or otherwise.
Using the reset disk
You wake up one morning and for whatever reason, you simply cannot remember your Windows login password. But you do remember your password reset disk.
Here's how you use it.
After a failed login attempt, Windows will show you your password hint (if you created one) and a link to "Reset password…" if you've created a password reset disk.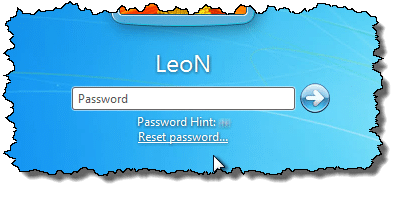 Make sure that your password reset disk is inserted and click Reset password… Windows will once again ask you to select the drive containing the password reset disk and then display this dialog: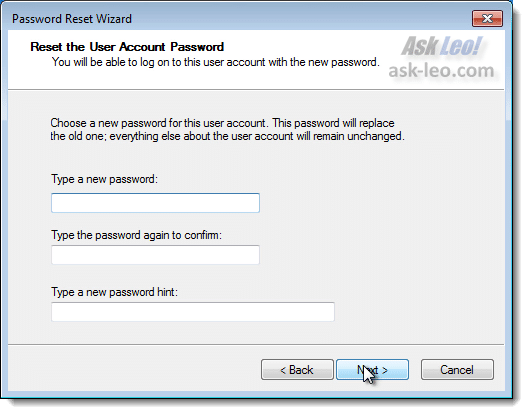 You can now enter a new password which will replace whatever that forgotten password may have been. Make sure to also include a password hint that might also help you (but not someone else) remember the password in the future.
Click Next and you'll be taken to the Windows login screen to login with your newly reset password.
Do you really need a password reset disk?
Is all that really necessary?
Maybe. Maybe not.
In all the years that I've been using Windows, the first time that I created a password reset disk was in writing this article. My approach to passwords allows me to remember them easily while still keeping them secure.
On the other hand, perhaps you've run into forgotten password situations before. Or perhaps you're setting up a machine for a friend who's not as comfortable with passwords, computers, and the like. Especially in the later case, a password reset disk can be a very quick and handy recovery tool.