Question: I would like to know how to choose efficient personal email domain name. Do I concentrate on "before the @" or the 'dot com" area? And, if I then own that domain name, what happens if the place I am paying yearly to goes out of business? Do I then lose that name?
Good on you for investigating this approach. When you own your own domain name, you'll have an email address for life…or at least for as long as you own that domain.
You raise some important questions.
Domains and email addresses
First we need to review what makes up an email address. For example:
leo@somerandomservice.com
Consists of several parts. Working from "the back" (right to left):
".com" is what's called the "top level domain" or TLD. ".com" is the most popular, but you've probably seen many others like ".net", ".co.uk", ".org", ".ca" and others.
"somerandomservice" is the second-level domain name.
"@" is a separator that indicates what we're dealing with is an email address
"leo" is the email name, or email account name, at that domain.
Typically we refer to the combination of TLD and second level domain as "the domain name", so in this case we'd call "somerandomservice.com" the domain name. (And yes, that happens to be a real domain I own for examples, though I've not set up the email address shown.)
What to buy, what to buy?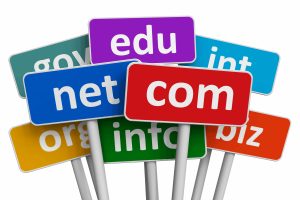 Which TLD you choose probably isn't terribly important for personal domains, with one possible exception: your nation of residence. You may want your top level domain to reflect the country you live in, and there's an entire set of top level domains just for that. The ".co.uk" and ".ca" examples I listed earlier are just two of hundreds of different country-specific domains available. You'll need to purchase from a registrar that offers them, though, as not all do.
If it doesn't matter, or if you really want something more generic, then TLDs like ".com", ".net", and a handful of others may be the way to go. Something else will likely drive that decision: availability.
The real catch to getting a domain name is finding one that someone else doesn't already own. This is where you'll spend most of your time.
For example if you want "somerandomservice.com", you can't get it. It's owned, by me. As I write this "somerandomservice.net" is also taken, but ".info" and ".biz" and a few other generic TLDs are available.
Or perhaps you might decide that "somerandombank.com" is more to your liking.1 Or some other name.
Obviously this where things get both frustrating, since so many of the good domain names are taken. It's also where you get creative. For a personal domain name you'll probably want something that is both meaningful to you, and available.
But it's really all up to you.
Before the "@"
Once you own a domain name – I'll keep using somerandomservice.com as my example – you control all the email addresses on that domain.
So if I want to create "leo@somerandomservice.com", I can. Or "ilovecoffee@somerandomservice.com". Or "l@somerandomservice.com".
It's all up to you.
Well, you and your email service provider – probably your registrar. While you can create as many email addresses on a domain as you like, how many can actually be used will probably depend on what kind of deal you have with your domain registrar or host. Some will have a limit, of say, 5 email addresses; others will have no limit at all.
But again, once you own your domain this is totally up to you. Typically people like to choose "first name @" style email addresses – as I have with "leo". However spammers know this, and first name email addresses are often one of their first targets when they start sending spam.
Ownership isn't really ownership
The word "buy" isn't truly accurate when we're talking about domain names. It would be more accurate to say that you're leasing it for a specific period of time, with the perpetual option to renew at the end of that period.
If you fail to renew, or fail to pay, then the domain will be taken away from you and eventually returned to the pool of available domains for someone else to purchase. It doesn't happen instantly – there is a somewhat lengthy process that happens before an expired domain is made available, but it can and does happen.
I have several domains that I'm intentionally letting go simply by not renewing them when their terms expire. Once the process runs its course, those domains will be available for anyone to purchase.
When good registrars go bad
Your last question is an important one: what happens when the company with which you've registered your domain goes out of business, or simply becomes unresponsive?
Things get messy.
ICANN, the Internet Corporation for Assigned Names and Numbers, is nominally in charge of such things, but they also may not actually have authority to act on registrar misbehavior. However, if there ever is a problem they're the place to start.
The good news is that problems are very rare. Typically, when a registrar does go under, the registrations that it managed will be transferred to another registrar. So chances are you won't lose anything anyway.
However it always pays to make sure you start in a good place, and I recommend that when you register a domain you make sure to pick a reputable registration source; there are many to choose from.
I've been using SimpleURL for years and have been very happy with the service. While not the absolute cheapest, any time I've had a question or need they've dealt with it quickly and clearly. Since SimpleURL is a reseller of domains from enom.com, one of the largest domain registrars; even if something were to happen to SimpleURL, I know that the domains would continue to be mine at enom.
Email for life
As I said, perhaps one of the biggest benefits of owning your own internet domain is that you are pretty much guaranteed an email address that will never change for as long as you own that domain.
That doesn't necessarily mean you need to know how to manage email servers and the like. You may elect to use your registrar's email services, or perhaps just forward the email to another service such as Gmail. The important point behind owning your own domain is that you can change how it's handled, and where, at any time without needing to change the actual email address people use to reach you.
Oh, sure, since you have a domain name, you could also host a web site on it. But nothing says you have to, and there are plenty of domains out there that are used solely for email without having a web or "http" presence.