I've been using Dropbox for a quite some time now, and was recently reminded of a compelling reason to finally recommend it to you.
One of the common questions I get is "how do I share [files, photos, documents, whatever] with my [friends, business associates, contacts] without using email, and without having them show up on the public internet?"
Dropbox solves that, and a lot more.
Dropbox basics
Here's the basic idea behind Dropbox: I create an account on Dropbox, and install the Dropbox software on two machines: A and B. On each, I point the Dropbox software at a folder to keep synchronized between the two machines.
It does.
It's that simple.
Files I place in my Dropbox folder on machine A shortly appear in machine B's Dropbox folder. "Shortly" depends on the speed of your internet connection and the size of the file, but that's the fundamental operation: update a file on machine A, and Dropbox updates it on machine B. Add a file to B, it shows up on A. Create a folder on A and the folder appears on B.
That alone is a very powerful concept if you have more than one machine. Imagine simply keeping your documents automatically copied between several machines.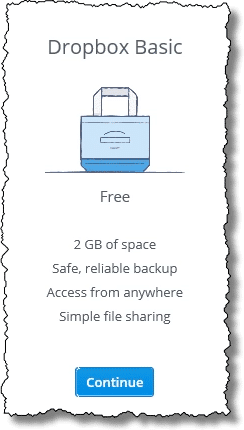 Now, based on that simple concept, we start adding features for different scenarios.
Dropbox for backup
You don't need machine "B".
Dropbox also makes the files you place in that folder accessible via your account on the Dropbox web site. It's a great way to back up important documents off-site.
One approach is to make your Dropbox folder your "working" folder. I do this for the books I write as I'm writing them. I store the manuscript I'm working on in my Dropbox folder. Every time I save, or exit the editor, the files are updated on my hard disk. Each time they're updated on disk, they're uploaded to the web.
Offsite storage without a second thought.
Dropbox for data transfer
Machines "A" and "B" need not be in the same place.
Dropbox works across the internet, so if machine A and machine B are in two different places (but connected to the internet), then Dropbox continues to keep the folder contents in sync.
I do this all the time, simply as a side effect of having my desktop machine and my laptop both set up with Dropbox. When I'm travelling – be it a short trip to the local coffee shop, or a longer trip out of town, each time I place or update a file in my Dropbox on my laptop, it shows up on my machine at home a few minutes later.
Dropbox for collaboration
Machines "A" and "B" need not both be your machines.
You can share folders within your Dropbox with other Dropbox users. Place a file in a shared folder, and only those users you give access to will have access to those files –  in their Dropbox account.
As I work with my assistants, we often share files this way. I have folders in my Dropbox setup that are dedicated to sharing with each. If I want to send one assistant a file, or maintain a reference copy of something for her, I simply drop it into her folder in my Dropbox. A few minutes later it shows up in the "Leo" folder on her Dropbox installation.
I find Dropbox to be the perfect solution for the file sharing needed.
Dropbox for sharing
Machine "B" doesn't need to exist – again.
Have a file you want to share with the world? Drop it into your Dropbox, right click on it, and choose "Copy Public Link". The result? A public link: a link that you can give to anyone, whether they have a Dropbox account or not.
For example, here's a photo.
https://www.dropbox.com/s/qw8m5i6v7otkuer/leolego.jpg
It sits in one of my Dropbox folders. I can change it, I can delete it. I can do whatever with it. And, unless I do delete it, you can see it.
While I wouldn't necessarily advise it, I've heard of people actually building small web sites this way.
Dropbox for devices
The machines need not all be PCs.
Of course there's a Mac version available, but more interesting is that there are versions for Linux, as well as for iPhone, iPad, Android and Blackberry. One of the ways I use Dropbox is to keep a collection of documents1 (pdfs) on a variety of machines I might choose to use, like my phone.
On mobile devices, Dropbox will offer to automatically capture and upload any picture you take. That photo I shared above? I took the original with my phone. A minute or so after taking it, the photo appeared on my machine, automatically.
Dropbox security
Dropbox has been criticised for security issues.
I believe that the criticism is largely unwarranted, and as you've seen, I continue to use Dropbox daily.
The issue is that the files you place in Dropbox are uploaded to their servers unencrypted. That implies that Dropbox employees could access your files. Of greater concern is that the file could be turned over to government agencies with appropriate legal justification.
That's true for any online provider that includes web based access, not just Dropbox. It's true for your email, your social media, and your favorite photo-sharing site.
The problem is also easily solved when using Dropbox. At the cost of losing public and web access for the files you choose to protect, BoxCryptor Classic is a perfect solution.
Dropbox storage
Dropbox is free for up to 2 gigabytes of storage. That's typically more than enough for sharing photos with family, documents with coworkers, or mp3 files with your phone. There are a variety of ways to "earn" additional free storage as well.
Additional storage is available for a subscription fee, should you need it.
Dropbox. I recommend it.
Podcast audio

Download (right-click, Save-As) (Duration: 6:57 — 3.3MB)
Subscribe: RSS