Question: Hi Leo, I've been using the free Macrium Reflect program to back up my Windows computer. However, I'm finding that when I try to do an image or a clone backup, I'm prompted each time to update the software. This requires making a new rescue disc each and every time, which can be fairly time consuming as I'm using Macrium Reflect to backup up my desktop PC and my laptop, too. I'm concerned that if I don't make a rescue disc each time the software asks me to update (which is every time I open it), my backups won't work and I'll be "you know what" out of luck! Can you advise?
You don't need to make the rescue media every time you back up.
You don't even need to make a new rescue media each time Reflect updates itself. There are times when you might want to, but even then, it's not a disaster if you don't.
Create rescue media when you first install your backup program.
Create new rescue media when taking major version updates of the program.
Create new rescue media if the regular update process indicates that there are important fixes to the rescue media.
Even if you do none of the above, you can make rescue media when you need it, using a different computer.
Rescue media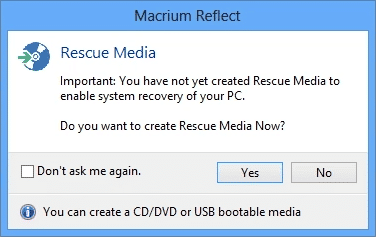 In order to restore a backup image to a hard drive, that hard drive can't be in use by any other software. Booting from the hard drive means that Windows itself is using it, so you need to boot from something else.
That "something else" is the rescue media or rescue disc. It's also referred to as an "emergency disc" or other terms by other backup programs. It's typically a CD or USB stick from which you can boot your computer should you need to restore a backup image to the computer's hard drive.
Most backup programs encourage you to create rescue media when you first install the backup software, or perhaps after performing your first backup. In any case, creating a rescue disc is something you can do at any time from within the backup software.
And, yes, I'd encourage you to create rescue media, as well as make sure you can boot from it, so you know you're prepared should the need ever arise.
Backup software updates
You absolutely don't need to make a new rescue disc for each backup. The only time you might consider it is when the backup software itself updates.
My recommendation is that you only make new rescue media on major version updates (say, version 6 to version 7) and not on minor updates (like 6.1 to 6.2) unless the release notes indicate a compelling reason to do so.
And, honestly, even then I'm likely to overlook it and not bother with a new rescue disc.
As I said, it won't be a disaster.
Last minute need
So you've misplaced your rescue disc or you didn't make one at all. Or you suddenly realize that your rescue disk is for version 4 of the backup software, and you've since upgraded to version 7.
And all of a sudden you need to restore a backup image.
Not to worry. You can create one at the last minute.
On another machine — even that of a friend, if needed — download and install the backup program if it's not there already (the free version will typically do), and create the rescue media. Then take that rescue media to your own machine, boot from it, and you're good to go.
Rescue media isn't tied to your machine, account, purchase, or activation. Any current copy of rescue media for the backup software you use should do just fine.
It's also typically backwards compatible, so if you were backing up using version 4 and all you can download in your time of need to make the rescue media is version 7, it's still not a problem. Newer rescue media should read and restore older backups just fine.
The most important thing is that you're backing up. As long as you're doing that, almost everything else can wait until it's needed, even at the last minute.
Podcast audio

Download (right-click, Save-As) (Duration: 4:23 — 4.1MB)
Subscribe: RSS