Evolution.
Windows Security is Windows Defender is Microsoft Security Essentials, by any other name. Windows Defender has also had different meanings over the years.
My computers sometimes say Windows Security, sometimes Microsoft Security Essentials, and other times Windows Defender. What are they, and why are different ones showing up at different times? What's the difference? Does it really matter which one shows up?
Microsoft's product naming frustrates me to no end. They seem to have an incredible knack for picking the most confusing names possible and then changing them.
While the names Windows Security, Windows Defender, and Microsoft Security Essentials all seem innocuous enough, what they mean has changed over time. Sometimes they mean the same thing, and sometimes they don't.
Security vs. Defender vs. Essentials
Windows Security is all-in-one security software included in current versions of Windows 10.
Windows Defender is Windows Security in Windows 8. It was also the name of an anti-spyware-only utility prior to Windows 8.
Security Essentials was all-in-one security software for Windows 7 and earlier.
Windows Security
In current versions of Windows 10, all security-related items are contained in the "Windows Security" app.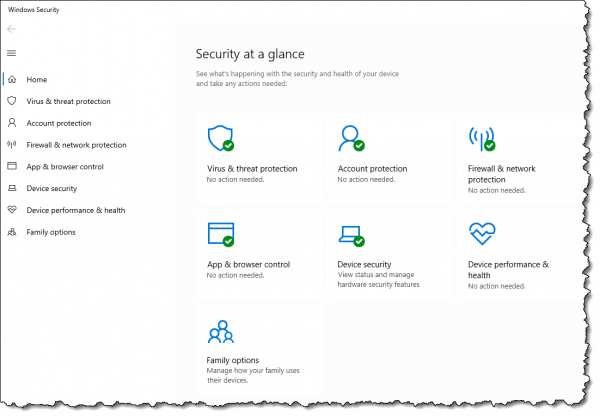 You can run this app by clicking the Start menu and typing "Windows Security". You can also access it via the "Update & Security" section of the Settings app.
Windows Security includes anti-malware scanners and tools, tools to secure your Microsoft account, firewall and network-related protection, and much more.
It's a one-stop location for all your Windows 10 security needs.
Windows Defender #1
What was once called "Windows Defender" in Windows 10 (and Windows 8) is now "Windows Security".
Windows Defender was the security software included in Windows 10 for several years. It didn't include everything currently in Windows Security, focusing mostly on anti-malware related tools. The Windows Security app collects all the security tools in one place, and in a sense, Windows Defender is just one of them.
If you click Start and start typing "Windows Defender", one of the search results will be Windows Security.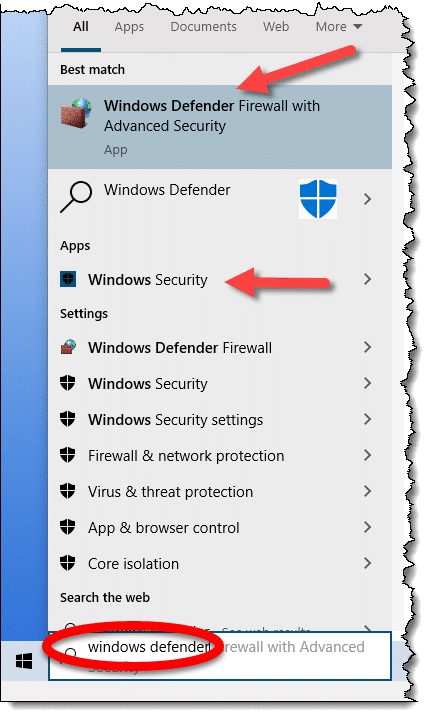 One of the other search results, however, will not be.
Windows Defender #2
As you can see from the search results above, the first item is "Windows Defender Firewall". Click that, and you'll bring up the full Windows Defender Firewall interface.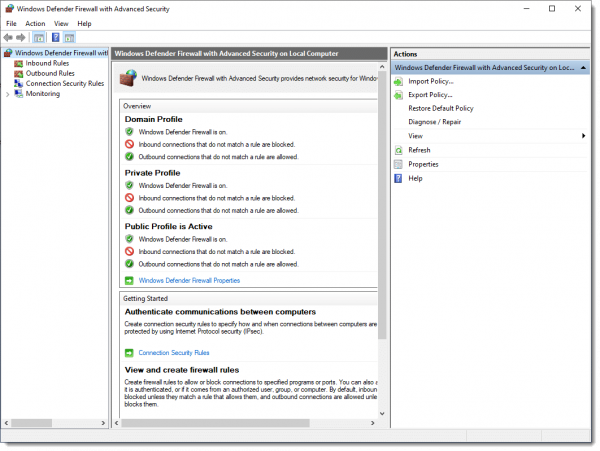 My belief is that this represents a portion of the software that hasn't yet transitioned to the new-name interface. One clue is that you can also get to this via the "Advanced Settings" in the Windows Security app's network settings.
Yes, it's confusing, but I think it will eventually coalesce under the "Windows Security" name.
Sadly, we're not done with confusion just yet.
Windows Defender #3
This is where things get weird.
In Windows 7, a tool called "Windows Defender" was only an anti-spyware tool.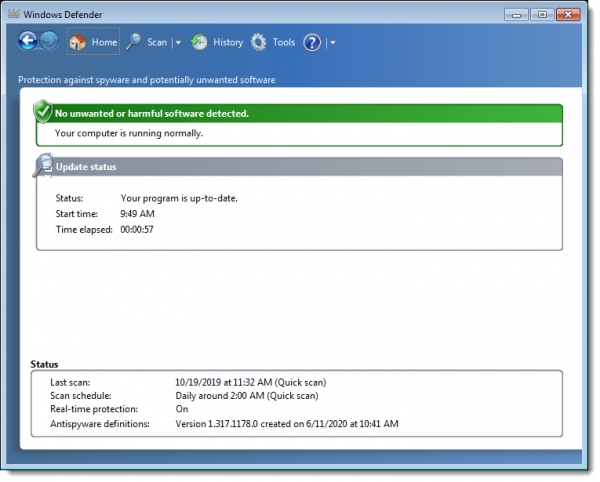 With Windows 7, you needed to install an additional anti-virus tool. Microsoft Security Essentials, which I'll talk about in a moment, was a common solution. Because this additional tool also included an anti-spyware tool, it replaced Windows Defender.
The resulting security solution would be Microsoft Security Essentials with no Windows Defender.
But we're not done with the Windows Defender name.
Windows Defender Offline
Windows Defender Offline was a version you could burn to a CD or install to a USB thumb drive. You would then boot from it and run Windows Defender without having to run the copy of Windows installed on your machine.
Booting from something other than your hard drive bypassed any malware possibly present on your machine. The result was Windows Defender Offline could do a more complete job of cleaning things up.
Windows Defender Offline was originally called Microsoft Standalone System Sweeper.
In current versions of Windows 10, the offline scanner is preinstalled and is called Microsoft Defender Offline. I don't know why "Microsoft" and not "Windows", except perhaps to differentiate it from the previous downloadable equivalent.
Microsoft Security Essentials
Finally, we come to the easy one: "Microsoft Security Essentials" has been relatively unambiguous over its lifetime.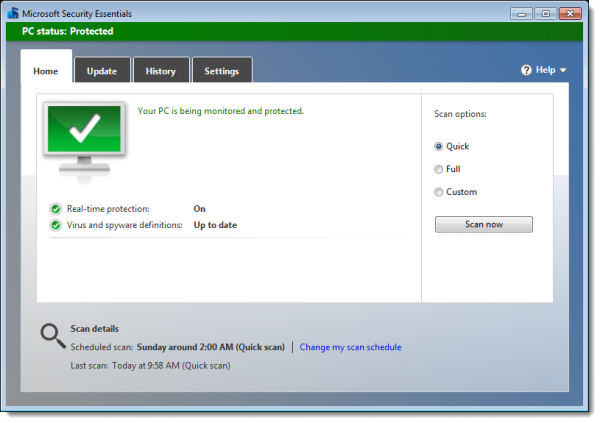 Microsoft Security Essentials (MSE) was an all-in-one anti-virus and anti-spyware program. It integrated well with Windows XP, Windows Vista, and Windows 7 and remains1 a free download from Microsoft.
If that sounds familiar, it's because that's exactly what Windows Defender is today for Windows 10.
Podcast audio

Download (right-click, Save-As) (Duration: 7:40 — 8.3MB)
Subscribe: RSS
Footnotes & References
1: As of the most recent update to this article. Its malware database also appears to be updating regularly.