Faster warm up. I searched your articles but maybe didn't use the best terms. I have several registry programs, like Registry Mechanic, CCleaner (and tried others) and run them often. I also do a Disk Cleanup often and defragment whenever it says I need to. I do several other things, such as clear history, cookies and files (whatever I can think of), but none of it seems to make much difference. After about 30 minutes, the computer begins working at a decent speed but initially, it's just dead in the water. I might as well take a shower and have breakfast. I know this is common, but is there anything else that I might try to speed things up?
Besides breakfast and a shower? I make coffee.
But yes, I believe there is.
What you're experiencing is quite common. I have a couple of suggestions that may help.
It's common for a number of services to start and run for "awhile" when you sign in to your computer, possibly impacting performance. For example, your security software is performing a scan, your backup software is backing up your computer, the Windows' content indexer is updating its index, and so on. Often the solution is to simply let those processes complete.
Security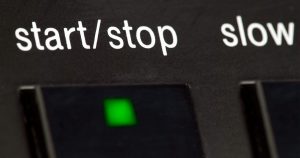 The most common reason for poor performance for "awhile" after turning your computer on is security scan in progress.
Most security tools operate at two levels: so-called "continuous" protection, which attempts to monitor activity in real time as you use your computer, and periodic scans, which scan your computer's hard disk for malware.
By default, periodic scans typically happen once a day; the question is, when?
If you leave your computer on 24 hours a day, chances are the scans will happen in the middle of the night, when you don't notice or care. However, if your computer is turned off overnight, the scans missed overnight may begin immediately after you turn on your computer and sign in. Depending on your security software and its settings, your system may slow to a crawl.
There are several possible solutions.
You might switch to a less intrusive scanner, or configure your security tools to be less intrusive when they scan, if that's an option. Many tools need not impact your computer's operation so severely while they scan. (This is one of the reason Windows 10's built-in Windows Security, aka Windows Defender, remains my recommendation.)
Another option might be to configure the scans to happen at a time when your computer would be on, but not as actively used — perhaps during lunch or dinner time.
Exactly how you make these changes will depend on the specific security software you're using.
Of course, you could take my approach: leave your machine on all the time and let the scans happen while you're asleep.
Backups
Backups are probably the second most common cause of prolonged performance issues after startup.
When it comes to scheduling, backup software operates much like security software. Most commonly, backups are scheduled for once a day. If the computer is off at the time of the scheduled backup, then the backup program may start the backup as soon as the machine is turned back on. Depending on the backup software, this might impact your computer's performance as you try to do other things at the same time.
The solutions here are similar: if you can, lower the priority of the backup to be less intrusive, change the scheduled time of the backup to have a lower chance of impacting your use, or just leave the machine on.
If it turns out that backups are the issue here — well, good on you for backing up. Regardless of when or how they happen, it's critically important that they do.
Indexing
For whatever reason, this one seems to come and go with various Windows versions and updates.
The content indexing service periodically scans your hard disk, much like your security software and backup tools. As a result, it, too, can impact your start-up performance.
This feature allows Windows' built-in search to search the contents of your files in addition to their names and locations. To do so, it reads all of the files and adds them to its index for faster searching.
The quick test here is to simply stop indexing your hard disks. Right-click on each in Windows File Explorer, click on Properties and then on the General tab, and uncheck the option "Allow files on this drive to have contents indexed in addition to file properties".
Unfortunately, there's little to be done if this turns out to be the cause of your slowdown, other than to leave that checkbox unchecked and live without the content indexing feature.
Other Services
Naturally, anything present in your system's start-up list is suspect. Carefully review what's there and decide whether a) they're needed, and b) their impact on startup is lasting longer than they warrant.
Rather than guessing (which, to be honest is all we've done so far), another approach is to run a tool like Process Monitor and analyze what's happening while your machine's being so slow.
Armed with the results of that analysis, you should then be able to make some decisions and changes to improve your start-up experience.
I was serious about coffee
It's not at all uncommon for your computer to "take a little while" when you first start it. You may be able to use it pretty quickly, but depending on how it's configured, you may see other activity continuing for some time as start-up tasks run and eventually complete in the background.
That's one of the reasons I do, indeed, log in to my computer and then go get my cup of coffee. I could start using it right away, but it's just more responsive if I give it a chance to complete its own morning ritual.
Even if I skip the coffee, the computer's usable. I'm also only talking a minute or two — definitely not half an hour. If my computer took half an hour to start up, I'd definitely be looking at the steps I've outlined here.
Podcast audio

Download (right-click, Save-As) (Duration: 7:53 — 8.3MB)
Subscribe: RSS