Question:
3-4 times per week I find a Chrome script message overlaid on my email s/w (Thunderbird) page.
Typical message reads "chrome://global/content/bindings/general.xml:113"
The message text varies, but is always prefaced with "chrome…". When this happens, Firefox slows to a crawl and the T-Bird tray icon shows an ominous orange background. I had Chrome on my machine at one time but deleted it (hopefully) using Revo Uninstaller at the most thorough uninstall setting.
In yet another case of horrifically confusing terminology choices, the "chrome" you're seeing isn't the Chrome you're thinking of.
Put another way, this isn't the Chrome you're looking for.
Chrome #1: A browser by Google
The "Chrome" you're thinking of is, of course, the web browser. Currently, over half the internet uses Google Chrome. Since the start of 2018, literally just over 50% of all visitors to Ask Leo! were using Google Chrome.
Given its overwhelming popularity, it's no surprise that Chrome would come to mind first.
Chrome #2: user interface technology
The user interface technology used by Firefox (and potentially other Mozilla applications, such as Thunderbird) is often referred to as "chrome". My belief is that it's "chrome" in the sense of putting the polish or shine on a user interface.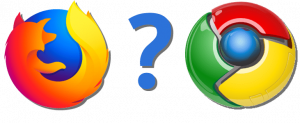 That technology —  XML User Interface Language, or XUL — is being phased out, but that doesn't mean that plenty of references to it might not remain. Those references often take the form of something beginning with chrome:, much like web addresses begin with http:. Your message is not referencing a specific product or program, but an underlying technology.
And yes, it's quite ironic that Google Chrome's competitor, Firefox, would use an underlying technology called "chrome". It's unclear which came first, but it's also irrelevant.
Chrome #3: the operating system
For completeness, I'll include the Google Chrome operating system.
While Chrome OS is based on the Google Chrome browser, and includes the browser by default, it is much more than that. It's a full-fledged operating system that has its roots in Linux as well.
Chrome versus chrome
Knowing what you're dealing with means, in part, knowing these three things exist and then looking for a couple of subtle differences when you see the word "chrome".
Chrome, with a capital "C", by itself, typically refers to the browser, Google Chrome.
chrome, (all lower case followed by a colon) typically part of an error message, as you're seeing it, refers to the interface technology in some other product, most likely Firefox.
Chrome OS, once again capitalized but this time followed by "OS", refers to the operating system.
About your issue
Now that we know you're not looking at the Chrome browser, the fact that your Firefox is slowing to a crawl makes a lot more sense.
In general, the error you see is often the result of a misbehaving extension. Step one to diagnose which extension or add-on would be to disable them all and then add them back in one by one, until the problem resurfaces.
But you'll be looking in Firefox for chrome, and yes, that even sounds weird.
Podcast audio

Download (right-click, Save-As) (Duration: 4:15 — 2.0MB)
Subscribe: RSS
Video Narration