I have a desktop running Windows 7 and plan to follow your suggestions for backing up. But having never used an external hard drive, I'm overwhelmed with the choices and could use some direction. My internal hard drive is a 500 GB SATA and the USB I have is 2.0. Can you recommend some guidelines: 2 ½ inches or 3 ½? 5400 vs 7200-RPM? 500 GB vs a terabyte? Which brands are the most reliable, etc?
Can I make a specific recommendation? No. The problem with this type of recommendation is that the industry is constantly changing over time, in some really fundamental ways. Often it seems, those changes happen immediately after I make a recommendation!
Instead, I'm going to review one recommendation that I just made to a friend of mine. Then I'll discuss some of the characteristics of the drives that you asked about.
A recent recommendation
I used to recommend Seagate FreeAgent Go Drives. At that time I did so I was recommending 500 GB drives. They're really nice drives; I like them a lot. They're based on laptop-sized drives, and they don't require an external power supply. They get all the power they need from their USB connection.
While researching this question for a friend recently, I found that these FreeAgent Go Drives are apparently becoming a little harder to find. They're still out there; they're just not as plentiful. So I ended up recommending a larger 2 TB external Seagate drive, (which does require an external power supply), to my friend.
Let's look at the specifics you're asking about, and you'll see also how I ended up recommending the Seagate 2 TB drive to my friend.
2 ½ inches vs. 3 ½ inches
If you want something portable, 2 ½ is kind of nice. The FreeAgent drives I have are 2 ½ inch drives. They are just a little bit wider than that when they're in their enclosure, and I throw one in my backpack when I travel.
I like having a backup utility or a backup drive with me when I'm out and about. When I'm flying, I'll have my laptop with me, but I'll have the external drive in my checked bag; so that in case I lose one, I would still have the other. But even when I'm just driving around, traveling light, I'll definitely throw that external drive in my backpack just to have something to back up to at the end of every day, depending on how much work I've been doing.
3 ½ inch drives can sometimes be faster or ultimately have larger capacity. They're definitely good if you are looking for something that's going to be sitting next to your computer all day long.
5400 vs. 7200-RPM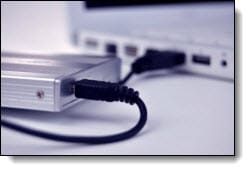 I almost never check for RPM when it comes to external drives. I couldn't tell you what some of my external drives' rotation speeds are. What we're talking about here is literally how fast the disk inside that drive is spinning: either 5400-RPM or 7200-RPM. There are internal drives that will run at 10,000-RPM, but external drives generally run at slower speeds.
The smaller drives tend to be laptop drives, which are designed to be a little bit more rugged. The drawback is that they're often slower. In fact, these smaller drives are often designed to run at 5400-RPM to increase their hardiness as portable devices. If speed matters to you, then you might consider a faster drive, which I suspect might very well be a (physically) larger drive.
When it comes to internal or primary drives, I do shop for faster rotation speeds. But for backing up, speed really isn't that big of a deal.
500 GB vs. a terabyte
For backups these days, I recommend a terabyte at a minimum. What I ended up getting was a 2 TB drive for my friend.
You may be able to simplify your decision by asking yourself four questions:
How big are my backups going to be?
How many backups am I going to want to keep?
Am I going to use the drive for anything other than backups?
How much am I willing to pay? (Larger drives are a bit more expensive.)
In my friend's case, I believe her computer's internal hard drive is about 500 GB. When you use a backup program like Macrium Reflect and turn on compression, the data stored on your external hard drive will take up about 2/3 of that space. So for a 500 GB internal hard drive, we're looking at about 300 GB per backup on your external.
So if I have a 2 TB drive, that means I can keep several backups for a while, which can be useful. Alternately, what I really like to do with backups is keep a complete, full image backup once a month, and then have incrementals every day. That can add up to a lot of disk space.
Just based on the size of the drive you're starting with (in your case 500 GB), something like 2 TB sounds about right. But again, it really depends on how many backups you want to keep, how long you will want to keep them for, and whether you are going to use the drive for anything else.
Which brands are the most reliable?
That is really the unanswerable question, and I say that because it changes so often. In the years that I've been dealing with computers, it seems like drive quality is cyclical. In other words, today for example, I just happen to gravitate towards Seagate drives. They're good, and as you've noticed I've mentioned them several times already. But Seagate drives haven't always been the drives to get. There are several other manufacturers of hard drives. One of them is better for a while, then another other one is better for a time.
I chose the 2 TB Seagate drive for my friend, and maybe that's a good choice for you today. Whether that choice will hold up over time remains to be seen.