I checked your information on backing up, but I didn't see anything with regards to how you physically connect one machine to another. Do you use a cable or is it done over a network? I tried using a cable for one desktop to my laptop, but I couldn't see the other machine's drives on my laptop. Both machines use Windows 7. I have EaseUs ToDo for the software that I'm using. I'm willing to try whatever you suggest.
There are a couple of ways to do what you're suggesting. I'll recommend something to you that I do, but for most folks, I suggest something else first.
Backing up to an external drive
The most common approach is to back up to an external drive that's connected directly to your computer via a USB port. It's less dependent on that other computer being connected, having enough space, or any number of other issues. Most backup software is optimized for this scenario.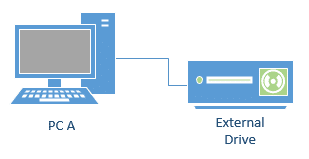 Basically, you're stacking the deck in your favor by just getting an external drive that's big enough to hold a couple copies of your backup and running with that.
Backing up via network
The most effective way to back up to another computer is to connect them via a network.
In most cases, your computer's already connected this way. If you're a typical home user, you probably have your internet coming into a router and then all of your computers connecting to that router. Because they're all connected to that router, they're on a network together and can be configured to see each other.
For this method, you create what's called a "share." That's basically a folder on that second computer that's made available and visible over the network so that the first computer can see it and back up to it.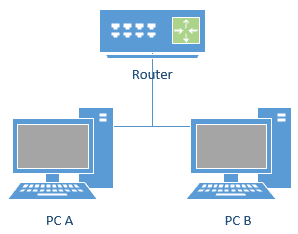 Create a folder somewhere on your machine. Right-click it, select "Sharing," and then choose the appropriate options to configure that share. On the machine that you're backing up, you would then simply configure your backup program to backup to that share.
Now, I know that I've glossed over many of the details of setting up networking and sharing because it can be finicky. And it can also vary somewhat based on which version of Windows you're running, and if you're running different versions on the two machines. But backing up across a network is quite normal and possible.
It's the approach that I would suggest if you want to back up to another computer. No special cables or configuration needed other than what you probably already have to share your internet.
And like I said, it's the approach that I use. My desktop machine actually backs up every night to a network-attached storage device, which is really nothing more than a single purpose custom PC that has a "share" on it. My backup program then simply copies the files and creates its backup on that share on that other machine.
But I'd still strongly recommend you consider that external drive.