Question: I am going to do a clean install of Windows to hopefully fix some errors, which means that I need to back up my files. The problem is that I don't quite have the means to back up my hard drive. Can I simply create a new, separate partition on my existing drive (1TB), copy my files to that, and then perform a clean install on the existing Windows partition? Afterward, I would transfer the files back and delete the "backup" partition. Would that work or am I heading in the wrong direction?
Yes, that would work, but…
There are risks. From what I can see, you're running a huge risk before you even begin.
You're just managing data
What you describe isn't really backing up. You're just moving some files over here so you can erase stuff over there.
It's a fine approach to solving the problem at hand: making room for a clean Windows install. It's a fast way to copy files so you can wipe out the primary partition and copy the files back later.1
But I'm not going to call it a backup, and I strongly suggest you not think of it as one.
Here's the real problem…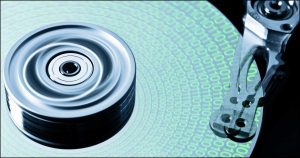 You're not backing up
This statement concerns me more than anything else:
"I don't quite have the means to back up my hard drive."
Let me be as blunt about this as I can be: make the means.
As it is, you run the risk of everything on that hard drive disappearing forever if there is a catastrophic failure.
If you're OK with that, then fantastic, I guess. You're good to go.
But I suspect it's not an acceptable scenario. As such, I strongly urge you to figure out some way to do real backups that protect your digital assets, should there ever be a need. All you really need is an inexpensive external hard drive and some free software, and you'll have everything covered.
A separate partition is still the same disk
Backing up one partition onto another where both partitions are on the same hard disk is at best only half a solution; at worst, it's a disaster waiting to happen.
If the hard disk fails, all of the partitions fail with it. If you put the backups of the primary partition onto a separate partition on the same hard drive, and the drive fails, they both disappear at once.
It's like having no backup at all.
Backups on a separate partition may be useful for some kinds of errors. Perhaps you delete a file you didn't mean to, or a bad sector crops up on a file in the primary partition — the backup on the separate partition would still be there.
But that completely ignores the more disastrous scenario of a catastrophic failure of the entire hard drive and the loss of everything on it.
In case I haven't been clear: don't do backups this way.
Back up, and back up somewhere else
Find a way to back up. That's a given.
But when you do so, back up in such a way that you're isolated from the events that might cause you to need the backup in the first place. Options include:
Back up to a second drive — preferably external — to separate the back up from the original hard disk.
Back up to an external drive that you then disconnect, to separate the back up from software such as ransomware "going rogue" on your machine and deleting or corrupting data on all connected drives.

2

Back up to an external drive that you then disconnect and take elsewhere, to separate the backup from your home in case it's robbed or goes up in flames.
Online backups, including but not limited to services like OneDrive, Dropbox, and others, are a possible solution as well, depending on how you use your computer and organize your data. But I still recommend a full image back of your system for complete protection.
In practice, doing only the first — backing up to an external drive — will cover 99% of most of the problems you're likely to encounter.
Podcast audio

Download (right-click, Save-As) (Duration: 4:36 — 4.3MB)
Subscribe: RSS
Footnotes & References
1: Many people would leave what you're calling the backup partition in place after the install. There's no requirement those files be in the same partition as Windows itself.
2: I generally don't recommend doing this in general. It gets in the way of fully automating your backups, which is more important, in my opinion. There are those (spooked by ransomware) who disagree.