A common request (or complaint) is that text or other items on the screen are too small to be seen clearly.
There have always been ways to adjust the size of items displayed, but they've been somewhat obscure and occasionally something less than reliable.
Windows 10 made this a lot easier.
Right-click on an empty area of the desktop and click on Display Settings in the resulting popup menu.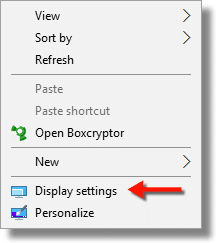 This will bring up the Settings app, opened to the "Customize your display" page.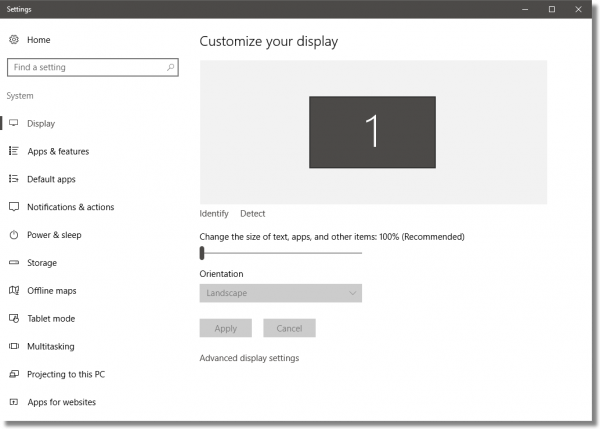 Near the center of that page is a slider labelled "Change the size of text, apps, and other items", set to some default value.

"Recommended" simply means Windows has determined this setting to be optimal for your display type; items display with the least amount of distortion due to scaling.
Using the left mouse button, click, hold and drag that slider to the right to make things bigger, or to the left to make things smaller. When you release the mouse, most items on the display will resize to your new setting.
Note that the range available to you will depend on what your display is capable of, and the abilities exposed by the display device driver.

You can experiment and adjust the size to your taste.
When you make a change to this setting, Windows shows a message that says, "Some apps won't respond to scaling changes until you sign out." In my experience, those apps are few and far between. I've never actually had to sign out to have the size change display across the apps I happen to be running. If an app or application doesn't seem to have responded to the change, or appears to be misbehaving after the change, signing out and back in again is the first thing I would try. (A reboot would do as well.)
Depending on your display type, you may find that some things look a little fuzzy after changing this setting to a non-"recommended" value. If this happens, you can choose to live with it (it harms nothing on the computer), or try a different setting.
Note also that it is possible to size things so big that poorly-behaved applications don't display properly. If this happens, simply return to this settings page and adjust the size a bit smaller.
Podcast audio

Download (right-click, Save-As) (Duration: 3:15 — 3.1MB)
Subscribe: RSS
More for Patrons of Ask Leo!
Silver-level patrons have access to this related video from The Ask Leo! Video Library.
  Change the Size of What's on the Screen in Windows 10