Question: If someone hacks into my router, will their activity show up on my personal computer and phones? We have activity as far as websites visited but we swear that the router must have been hacked. Is it possible for activity to be on the computer and phone if they weren't actually used?
Hacking a router is possible, but fairly uncommon.
Most router hacks happen from the computers in your local network. That means you may have malware on one or more of your machines and it's accessing the router. This can show up in several different ways on your computer.
I'm not so sure about the phones.
But since you asked, let's talk a little about this scenario.
What is router hacking?
Router hacking is a technique that redirects you from legitimate websites to malicious sites in an attempt to gain account and personal information or to infect your computer.
For example, let's say a hacker compromised your router. By replacing the router's DNS settings, any time you navigate to PayPal.com you might instead be taken to a website that the hacker created to look like PayPal.com.
If you think the site looks legitimate, you may enter your user name and password to access the site. The hacker then has that information and can use it to access your real PayPal account.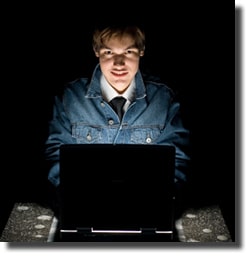 In a router hack, the redirected site could be anything: Google, your bank, or a credit card company. It can be any place where you might provide account or personal information that the hacker can capture.
The other scenario is that the redirect could send you to malicious sites that then try to install malware on your machine.
Local effects
A router hack itself may not leave any sign on your computer, so your anti-virus and anti-malware programs won't detect anything. All of the redirects happened on your router, so you won't find any evidence.
However if the router was hacked due to malware on one of your systems, then perhaps that malware would be detected.
While router hacking can happen to anyone, I don't believe that's what's going on in your case.
I would suspect that the activity that you're seeing on your machine is more likely because you are infected with malware or somehow, someone else is using your equipment when you're not around.