Question:
I'm running Windows 8.1. Lately, when I'm in File Explorer, I right-click, the menu takes a very long time to appear. For example, if I wanted to delete a file, I can use the delete key and get the normal immediate response but the right-click takes seconds to appear. For Delete, the keyboard is an easy and fast work around even for multiple files. But Rename? Or Open with? And yes, I back up, I really do. I've now restored back about as far as I want to go with no improvement. I'd be willing to go further back if there's a specific program I could look for. Any ideas?
You know, Windows often gets the blame for this kind of thing but it turns out it's rarely Windows' fault. If anything it's Windows fault for being so accommodating with the various programs that you can install.
Extending Explorer
You may have noticed that programs can add things to that menu that pops up when you right-click on a file in Windows Explorer. Sometimes when you install software, there might even be an option to the effect of "add context menu", or something like that.
That right-click menu is called a context menu because what it contains varies depending on what you click on, or the context. If you right-click on a jpeg file, you might get some things that you wouldn't see if you clicked on a .doc file, and so on.
What happens is that between the time you click and the time the menu is displayed, Explorer needs to figure out which items to put on that context menu. It does that by actually running some software provided by each of the programs that might handle a file asking, "Is this you, and if so what should I put on the context menu?" If you have a lot of programs installed that potentially provide context menu items, it has to ask each one.
Now, normally, it's a pretty quick decision. However, there are scenarios where one of those handlers needs to do some work to determine whether or not it should be on the context menu.
Delaying Explorer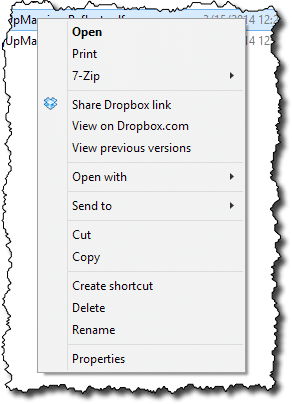 Your delay could be caused by a badly written handler for one of those programs that you perhaps have installed recently.
It could be that you're right clicking on a file that's on a network connection, or on an idle USB drive, and the handler actually needs to open and read the file a bit to figure out what to do. That could cause a delay while a network connection is re-established, or while a USB drive spins up.
And it could also be your anti-malware software looking at the file. I've heard that some can and do insert themselves at this point.
Speeding up Explorer
So, what to do? Well, step one of course is to think about what software you may have installed recently, especially if the problem began about the time that you installed that software. See if the software has something that can appear on the context menu.
Step two, of course, is to right-click on a number of different types of files and see if you can identify all of the programs that have added things to the context menu. You need to right-click on many different types of files, because even though you may not see handlers in the pop-up menu, they're may actually be called even if they don't have anything to display.
In both of these cases, see if there is an option in the program that you've identified, or in its setup, to not have a context or right-click menu item. If you can, turn it off. If there is no such option, consider uninstalling the software and seeing if that makes a difference. If it does, look for that option when you reinstall, or complain to the vendor if that option doesn't exist.