I have Windows 7, 64-bit, on an Asus motherboard with 8 GB of RAM. This issue is about my onboard sound. The sound degrades the longer the desktop is left on. By the fourth day, I'm getting static, audio dropouts, and even a sluggish wired mouse. As soon as I reboot, these issues disappear until two or three days later. I added a Diamond sound card which made matters worse, especially the static. Now, I'm back to my onboard sound. I'm at my wits' end. I've been getting advice like "move the sound card" but there is no separate sound card and why would rebooting eliminate the problem?
This sounds like a software problem, possibly one that's not related to your sound hardware at all.
Before I discuss how to deal with that, let's check something.
Check for the latest drivers
First, make sure that you are using the latest possible drivers for your sound card and perhaps even your motherboard.
Many times the interface circuitry on the motherboard has its own drivers which can cause the kinds of things that you are experiencing.
The issue: A memory leak
The problem that you're describing (the degrading over time) feels much more like a software problem than a sound card issue. Why? Rebooting clears the problem up immediately.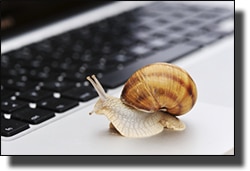 I suspect that you have a process or task that has a "memory leak". In other words, the software on your machine is gradually using more and more resources, slowing down the entire system. Your description of the mouse slowing down also points to this kind of problem.
Check your processes
Run Process Explorer and see which processes are using the CPU. More importantly, see how much memory these use after three days (i.e. when things are starting to feel slow). I suspect that one process is either using up all of your computer's CPU or more memory than your computer even has.
When something like this happens, Windows begins to use the swap file – the file on disk that is significantly slower than if there were enough RAM.
I'm not saying that you don't have enough RAM. I am saying that there's a program that is probably misbehaving; it will try to use more RAM, no matter how much you have. Once it exceeds the available amount of RAM, it starts using the swap file which dramatically slows down your entire system.
That's where I'd have you start looking.