It could just be slow, or it could be broken.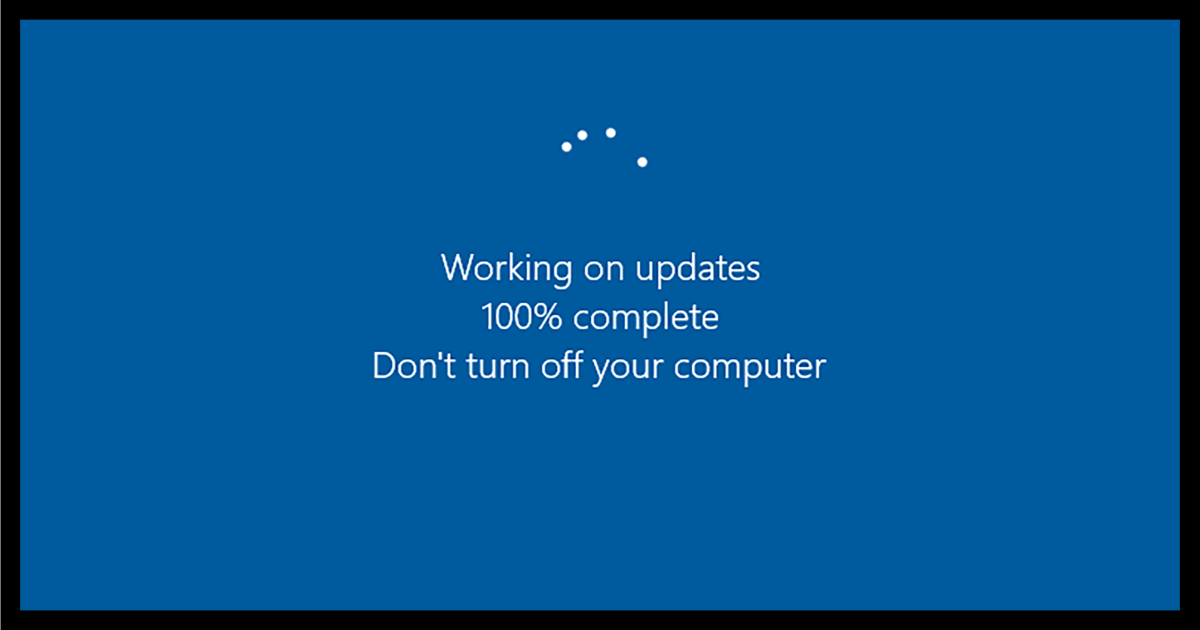 On occasion, Windows Updates can seem to take forever. Here's what to look for and what to do when that happens.
Question: On one, Windows Update was waiting for "Install" after 20% waiting for more than 30 minutes, on the other, it was "100% Download", of Windows updates. I have an extremely fast Internet (Fiber optics) and no other computer running any downloads.
Without a doubt, this is a frustrating situation, especially if you're waiting to use your machine.
While I wouldn't call it "common", it's definitely something I hear of from time to time.
It's happened to me. Here's what I do.
Updates that take forever
If an update seems to be taking an excessively long time, the first step is to let it. Most situations are cleared by just letting it run to completion — overnight, if need be. If the machine is still updating or clearly hung, the only alternative is to force-reboot. Then you can either delay updates, repair Windows Update, or perhaps revert to a backup image.
Updates sometimes take forever
The scenario looks like this: Windows decides it needs to reboot to apply an update. Whether it does so on its own or you explicitly reboot your computer, the process begins.
And continues.
And continues.
And continues.
Most often these reboots take just a few minutes, so that's what you're accustomed to and are expecting. Except this one seems to be taking forever.
The circles keep spinning. The "% complete" may or may not update. The bottom line, though, is your machine is unusable until such time as the update completes.
And yet, it seems like a really, really long time. How do you know when it's been too long?
Honestly, you don't.
Let it run
My first inclination is to let it run. For hours, if necessary. Go do something else and let the computer do whatever the heck it's doing.
I let it run overnight, if necessary. Every time I've done so, the machine has completed the update by morning.
Yes, for reasons unknown, sometimes updates take a seriously long time. They shouldn't, but apparently they can.
This is probably the most pragmatic answer I can give you. Most of the time, the problem simply goes away and the updates complete, given enough time.
When too long isn't long enough
If, however, in the morning the machine has still not completed its update process, I'll force a reboot and "see what happens." Sometimes it'll go back to updating and sometimes it'll boot into the recovery console, but most often the machine will reboot into Windows. You can then check the status of updates and perhaps try it all again, perhaps at a more convenient time.
One thing you can try if you get back into Windows is to follow the steps to repair Windows Update. This can clear a variety of issues, and perhaps one of those is at the root of the problem.
Well and truly hung
The concern, of course, is that the update process has simply hung (state when either a process or system doesn't respond at all to input), and no amount of time will correct the problem.
To begin with, if the "spinning dots" aren't spinning — particularly if they seem frozen in place and don't move at all, that's a sign the machine has likely crashed. A forced reboot is really the only thing you can do.
Unfortunately, that's about the only sign you can use to infer the machine has crashed. It could still be hung with the dots still spinning, but there's just no way to tell.
Hence: let it work overnight.
Generally not a problem: the internet
A slow internet connection can cause things to take a long time to download, it's true. But that's rarely at play here, since everything needed for the update should have been downloaded before the reboot.
While your machine is performing the update, the speed of your internet — or perhaps whether you're connected at all — shouldn't make a difference.
Of course, I have to say shouldn't. Anything is possible.
When everything fails
Say you wait overnight and it's still "updating", so you force a reboot. The result: the machine goes right back into updating, or it just doesn't come up at all.
What then?
I would:
Restore the machine from the most recent backup image you have.
Try again.
If the problem remains, I'd restore from the backup again, and configure Windows Update to pause updates for a week. This might give Microsoft an opportunity to correct whatever issue might be at play.
Podcast audio

Download (right-click, Save-As) (Duration: 8:52 — 8.4MB)
Subscribe: RSS