I can't login to my account as it keeps saying it wants another email to use as recovery. I do not have one. Do I have to get another account from somewhere in order to use Hotmail now? If so, I'll start using the new one and get rid of Hotmail. What an inconvenience in that I have no access to my own account!
No, this isn't some conspiracy to get you to create yet another email address. Heck, the email address technically doesn't even have to be yours; but it does have to be setup before you need it.
Recovery email addresses
Recovery addresses are nothing new, and they're certainly not limited to Hotmail. Almost all of the free email services allow you to set one up. In fact, it's strongly recommended that you do. They're used if you ever lose access to your account.
For example, let's say you lose your password and you can't log in to your account. You then click the "I forgot my password link" (or whatever it's called for the service you're using), and it sends a password link to the recovery email address. The assumption, of course, is that you have access to that recovery email account. Once you get the password reset link, then you can change your password on your primary email account and log in again.
Now, the recovery email address is something you need to set up before you need it. Obviously, if you could set one up without logging in, well, then… hackers could do that and probably hack into your account. That approach just isn't going to work.
So you have to configure, in your account settings, a recovery email address before you need it. Typically, it's another email account, ideally at another email service, that you also have access to.
The recovery address needs to work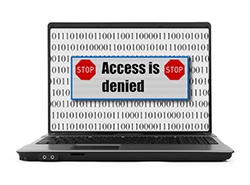 Now, it's important to point out that it doesn't help to set up a recovery email address that doesn't work. I've seen people just type in bogus email addresses as their recovery address. I've also seen people let the recovery email account simply expire and get closed because they never used it.
This is such a bad thing, because if you ever lose access to your primary account, you're going to need that recovery address to work, and it will be too late to change it or set it up. If it's configured, but it doesn't work, you may not get access to your account back.
Setting up a recovery address
Typically, the right thing to do is to set up a recovery address at another service. Say, set up a Yahoo account to be the recovery address for your Gmail or Hotmail account – that kind of thing. Then set up the other way too. Set the Gmail address to be the recovery address for the Yahoo account, and then make sure you log in to the recovery account from time to time so that it never gets closed for inactivity.
It's possible, though, not recommended, that you use the email of a very trusted friend as your recovery email address. I say "very trusted" because with the recovery address, they could hijack your account quite quickly and easily, and there would be no going back. You wouldn't even have a legal recourse, since you proactively gave them access. I've seen too many relationships and friendships go bad to ever recommend this, but I have to throw it out as one possibility.
Finally, it's just possible that some systems are very strongly recommending or perhaps insisting that you create a recovery email address. Just do it.
What the systems are responding to are the incredible number of account hacks that happen every day. If someone has a recovery email address set up and working, they are able to regain access to their accounts quickly and relatively easily. If they don't, well, then their accounts gets hacked and it could just as easily be gone forever. So, stop looking for evil intent.
The services here really are just trying to protect you.