I just ran CCleaner and I had at least 100 app data roaming entries, which have never appeared before when running a scan. I've been reading articles about app data roaming and I'm a little fuzzy on what it means. My computer's hooked up to a modem and a router. I do not use wireless for this computer, but I do have it enabled for my iPad touch and the appdata roaming is showing all my activity on this computer. I'm a little concerned about this. I recently did a clean install of Windows due to a virus and I'm about a week in on that clean install and now this has appeared. Also, another interesting problem is that I decided to have a look at the application data folder and I got a Windows pop-up saying, "Access is denied." Any thoughts?
A couple of things are going on here.
First, AppData\Roaming probably isn't what you think it is. It doesn't have anything to do with wireless or the number of people using their computer in different places.
What is AppData\Roaming?
AppData is a folder in your Windows user account home folder, and Roaming is a folder within that. AppData\Roaming is where programs on your machine store data that is specific to your user account. The folder is normally hidden, and lives within your user account home folder. As an example, on one of my machines the full path would be:
c:\Users\LeoN\Appdata\Roaming
Where "Roaming" is a sub folder of "AppData".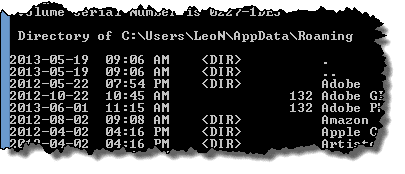 Into that folder might be placed things like default templates, configuration files, and other support data that applications might use that a) might be different for other users of the machine, and b) aren't your actual working documents.
Now, AppData makes sense – it's where Applications place Data. But what's with the "Roaming"?
Roaming around with Windows
AppData\Roaming is designed for use in what I'll call a corporate environment, though any widespread deployment of Windows in a large environment could be configured to make use of it.
In these scenarios the idea is that your Windows account isn't an account on a specific machine, but rather an account in your company's overall IT infrastructure or "Domain". In theory, then, you could log in to any machine connected to your corporate network on which you have permission with your single corporate Windows account.
And when you did so, the data that applications had placed in AppData\Roaming would follow you to the machine you logged in on. It would "roam" to whatever machine you happened to use.
AppData\Roaming at home
Outside of large Windows installations like I've described, the concept of roaming simply isn't used that much. At home I'd dare say it's not used at all.
However the folder most certainly is. When programs ask Windows, "Where should put my data?" Windows responds with "Well, put it over in the current user's AppData\Roaming folder."
At home and in most traditional small Windows installations the word 'roaming' really means nothing to us. It's simply the folder in which applications can put data and nothing more.
What CCleaner is doing
Without knowing specifically what CCleaner is showing you in those folders, I'm not going to get too concerned. I don't think it's a sign of anything malicious.
AppData\Roaming is a place where temporary data might get placed and I could envision CCleaner deciding to clean it up. It might be a tad confusing, but it's not necessarily a problem.
Bottom line is that I don't think there's anything to be concerned about, and you don't need to read anything into the "roaming" at all.
Access denied
Now, you indicated that you tried to look at the application data folder and you received an Access Denied message. I have an article on this – "Why can't I access the Documents and Settings or Local Settings folders in Windows Vista?" (applies to Windows editions after Vista as well). When they made the transition from Windows XP to Windows Vista, they actually rearranged some of the places where data is stored.
For example, in Windows XP, you may remember there was a Documents and Settings folder. Well, that's now part of the Users folder. And in fact, as we saw above, the application data folder is the c:\Users\username\AppData\Roaming folder, whereas it used to be in "c:\Documents and Settings\username". It's more complex and more confusing than that, in part because you'll still see "Documents and Settings" on your machine , but you'll get Access Denied if you try to open it.
There are two things that I would have you do.
Look for other similarly named folders. Documents, Application data, or another more easily accessible with a clearer name.
Make sure that you're the Administrator. If you're the Administrator (and you might need to run Windows Explorer "as Administrator"), then you should be able to see most all of these folders without restriction.