Question: I purchased backup software and even after reading the online documentation, I don't understand what files I should be choosing to back up. And will I burn these to a disc or put them on my hard drive? I have the PC's installation files so I know I don't really need these, but I am so confused.
Good for you for even getting this far. So many people don't bother to back up at all and end up regretting it later when the inevitable disaster happens.
There are several answers to both of your questions. Which to choose depends on what you have, your level of expertise, and how much effort you want to put into understanding and configuring your backup.
As always, there are tradeoffs.

How I back up PCs
I'll start by outlining what I do, since it's a combination of paranoid safety and relative simplicity – even for me.
I happen to use Macrium Reflect1, with the following configuration:
I back up everything on my C: drive, which is typically the only drive in the system. By everything, I mean the drive and everything stored on it: all partitions, the operating system, programs, and data. This is referred to as an image backup.
I use the Macrium scheduler to automatically perform a full backup once a month, in which an image of everything is copied.
I use the scheduler again to perform an incremental backup every night. This backs up only everything that's changed since the previous incremental or full backup.
That's it. Everything is backed up every night. Should I lose something, even the entire hard disk, I can recover using the previous day's backup.
Now, let's look at those decisions I made, and how you might or might not make different ones.
Where to back up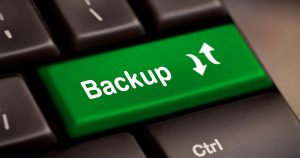 To start with, you should never back up to the same hard drive that you're backing up. One of the major points of a backup is to be able to recover from a hard disk failure. If your backups are on the same disk that just failed … well, putting it technically, you're screwed.
I also don't recommend backing up to a second hard drive contained within the same machine. Both hard drives are vulnerable to problems that could take them out at the same time. Things like power supply failures or malware could render both your primary hard disk and your backups inaccessible at the same time.
The most pragmatic solution for most people, in my opinion, is an external hard drive. There are several reasons: it's always there and ready; purchase a large enough one, and it'll hold multiple copies of your entire backup; and it's portable – should your machine die, you can just move your external hard drive to another and recover your data.
Backing up to another machine on your local network, as I do, is also a very reasonable approach, though it will probably be slower than a directly-connected device.
I no longer consider optical media, like DVDs, as an acceptable destination for backups. Besides requiring manual intervention to load and unload – which prevents any automation – they're typically too small for most backups.
I also have mixed feelings about using flash drives. External SSD-type disks may be OK, since they're roughly the equivalent of actual hard disks, but inexpensive thumbdrives and the like simply wear out too quickly and randomly to be something I feel comfortable counting on for something as important as a backup.
What to back up
There are two basic directions you can choose when deciding what to back up:
If you don't know exactly what should and should not be backed up, then back up everything. That means backing up the entire drive, as I do. There are other advantages for this, as we'll see in a moment.
If you do know exactly what should be backed up, you know what you are doing, and you have a strategy for recovering your system (including the things you choose not to back up) after a catastrophe, then by all means, back up only what you know you need.
The problem is that it's extremely difficult to know what to back up. Programs place data files and settings and all sorts of random things in all sorts of random places on the hard disk.
A backup of everything allows you restore everything. By that, I mean when things go bad, you will be able to restore your entire system – operating system, programs and data – in one operation.
Backing up only what you think you need means that to restore, you'll need to reinstall the operating system, reinstall the applications, reconfigure the applications to your preferences, and then recover your data from backups. This is a much longer and more error-prone path. I can almost guarantee you at least one file you'll wish you had backed up will have disappeared forever.
You can guess which way I'm leaning: back up everything, it's safer.
The exception: if all you have to back up to is small media, like the DVDs I mentioned earlier, you may need to make some hard choices. Backing up "My Documents" and everything in it would be a start. Then look at where on your hard disk your programs store your data, and back up those folders as well. Be prepared for a long recovery process should you ever experience a failure.
How often to back up
This should really be a function of only one thing: how heavily you use your computer.
If, like me, it's your primary business and source of income, then nightly backups are a must. There's no question. Even if you don't have a disaster, the ability to recover a file you had yesterday but accidentally deleted today can be a huge time saver alone.
If you are just a casual user, your needs may be different. One way to gauge your needs is simple: think carefully about what you do on your computer – perhaps monitor yourself for a week. Now, pretend you suddenly lost that week's worth of activity – all pictures, email, documents, whatever – everything that happened in a week, gone. Does that hurt? If it does, you need to back up more frequently than that. If you don't care, perhaps less frequently might be ok.
Now, I said it should be a function of your usage. However, I do want to throw two other factors into the decision-making process:
Importance. You may not use your computer heavily, but when you do use it, it's extremely important. In this case, you may need to elect for more frequent backups to preserve that important information.
Convenience. The practical reality is that if your backup plan involves swapping DVDs in order to make it happen, you're probably not going to do it as often as you should. Shoot for more frequently than you need, so you actually do it often enough.
Of course, particularly if "important" and "convenient" are at odds with each other, you may very well want to consider purchasing better back-up media – like that external hard drive – so you can automate the back-up process. Relying on your memory is also not necessarily the best approach when it comes to backing up.
Regardless of how you do it, where you do it, and (to a lesser extent) how often you do it, the most important thing is simply that you do it. Given the incredibly large amounts of information we rely on our computers to retain for us, backing up has never been more important.
Podcast audio

Download (right-click, Save-As) (Duration: 8:21 — 3.9MB)
Subscribe: RSS