Looking at a book online it said: "At the Publisher's request, this title is being sold without Digital Rights Management Software (DRM) applied." – What's that about?
DRM, or Digital Rights Management, is software that prevents you from copying digital purchases and giving them to others.
Naturally, it's complicated, and can be used for more fine-tuned control, but put another way, at its core it simply prevents theft of copyrighted material.
Unfortunately, it's rarely bullet-proof, and in doing its job, it's the innocent who pay the highest price.
DRM in action
The fact that you can't easily make a copy of a DVD or Blu-ray disk is probably the most common example of DRM in action.
The fact that you can find software that breaks or bypasses the DRM used on DVDs or Blu-ray disks is the best example of why DRM so often fails.
In your case, I would guess that most books from the seller you're visiting have DRM applied in such a way that you can only view those books on devices you have registered with that seller. You might copy the file to someone else's device, but because of DRM and your copy being locked to your account, they're unable to read it.
Amazon's Kindle is a good example. The native Kindle file-format is ".mobi" — a format specifically designed for ebook readers. On top of that, Amazon places a layer of DRM that locks the books you buy to your account. Without that DRM, you could give the digital book to anyone to read: something publishers typically don't appreciate.
DRM is encryption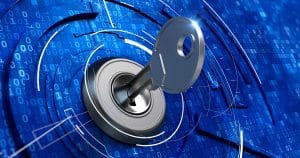 For all its complexities and differing implementations, DRM is nothing more than a form of encryption. The content you're provided is encrypted in such a way that only authorized agents can decrypt and view it.
DVD and Blu-ray players have decryption keys built in. Your Amazon account includes a Kindle decryption key of some sort. Other DRM techniques not only control and limit distribution of the appropriate decryption key or technique to authorized players, but also make sure all content is distributed in an appropriately encrypted format.
Perhaps the simplest way to think of DRM is as an encrypted file for which only authorized parties have the password. And, indeed, some very simple DRM is exactly that: a password you must enter before being allowed to view a locked document.
The "management" in DRM
As I said, DRM can be more complex than simple encryption. A good example I run into is Kindle books that are limited, not just to your account, but to a specific number of devices within your account.1
For most people, that's probably not an issue, but I'm an outlier: my wife and I have something like eight Kindle devices or applications installed on our computers or mobile devices. Naturally, the mix of devices we have changes from time to time.2
In attempting to download a book recently, I was informed I'd reached the limit of the number of devices I could read it on (five in this case, but it's the publisher that sets the number, not Amazon). They would, of course, be happy to sell me an additional copy. I had to "de-register" one of the older devices in order to free up one of those slots before I could download to the device I wanted to read it on.
For every DRM, there is an equal and opposite…
One of the frustrations around DRM is my old adage: when it comes to digital material, "if it can be seen, it can be copied".
In order to legitimately consume DRM-protected content, it somehow has to be decrypted. Therefore, one way or another, it can be copied.
As I mentioned above, there are utilities that remove DRM from DVDs and Blu-ray disks, Amazon Kindle books, and probably just about anything else you can think of. If someone is dedicated or knowledgeable enough, most DRM is simply a minor speed bump.
DRM keeps honest people honest … and annoyed
The real issue I have with DRM is that it hurts the honest consumer while only inconveniencing the thief. It's not an effective deterrent, and it gets in the way of what I consider valid and morally appropriate actions, like backing up.
This is why the digital books I sell have no DRM. I don't believe in it.
Yes, I'm sure my books are stolen regularly, but I'm not going to further inconvenience my paying customers because of it.
Other publishers feel differently. Many — usually older, traditional publishers — like to lock DRM down tightly, so you can have one and only one copy of whatever you've purchased, like that DVD or Blu-ray disc.
DRM and the law
I am no lawyer, and this is in no way legal advice.
When it comes to DRM, things get complicated.
For example, in the United States, it's apparently currently illegal to break or bypass DRM. Yes, that means making a backup copy of a DVD or DRM'ed ebook you own is against the law.
In other countries, that's not necessarily true. In fact, many of the utilities used to bypass DRM originate in countries with less draconian rules relating to digital content.
Podcast audio

Download (right-click, Save-As) (Duration: 6:17 — 3.0MB)
Subscribe: RSS