Backing up is doable, but transfer? Don't get me started.
Address book contacts suffer from a lack of standardization, particularly when it comes to synchronizing or transferring between systems.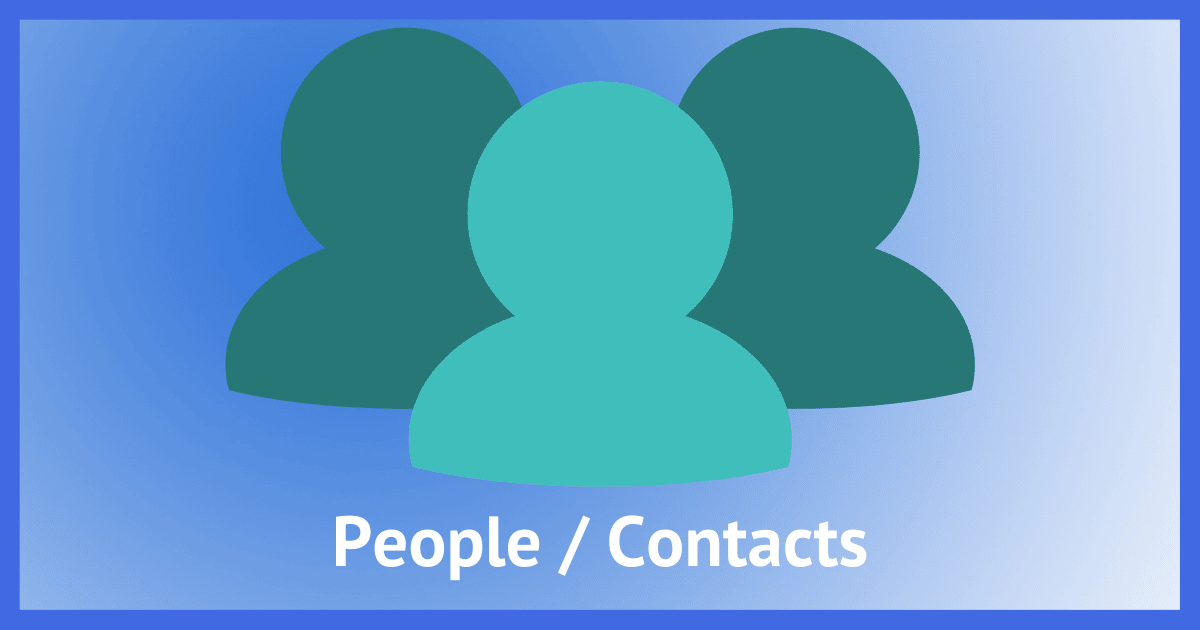 A friend recently asked if I could recover all his email contacts from an old machine and get them into his current email programs.
After all this time, managing contacts and their portability remain a frustrating aspect of email. You'd think we'd have it sorted by now.
People / Contacts / Address Book
Not only do they have many names, but transferring contacts between email systems is stymied by different formats, different collections of information, and different approaches to using the information. The best compromise is to stick to a system that serves most your needs, and realize that there will probably be some data loss when transferring between systems.
The state of contacts
To begin with, your list of contacts goes by many names. A common alternative is Address Book; Microsoft has the People app and interface; there are probably many other names for the same thing.
Whatever it's called, at its most basic it is just a collection of names, email addresses, and additional information that you want to be able to use easily in your email program or interface.
Every email program has the ability to collect and store your contacts for you — but that's where the commonality ends.
Each program collects different amounts of additional information and stores it in different ways — usually proprietary — in different places on your computer and/or online.
Export functionality, if it exists, often includes a confusing set of options and may not export all the information collected. Import functionality, if it exists, may not import all the information you have available.
There's no standard, and that's a problem.
Single-system solutions
Generally, if you stay within one ecosystem, you might never notice a problem. For example, if you use Gmail, you can export and import contacts into other Gmail accounts without losing information.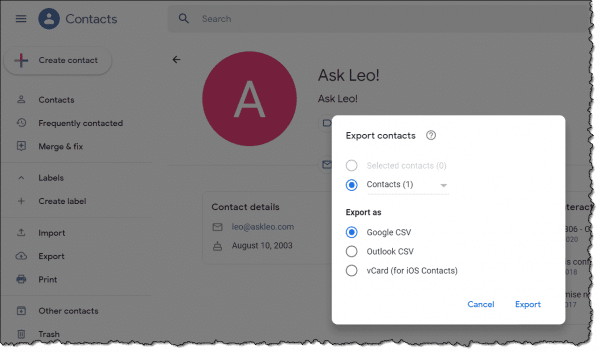 Similarly, if you use Microsoft Office's Outlook email program, you have options as well.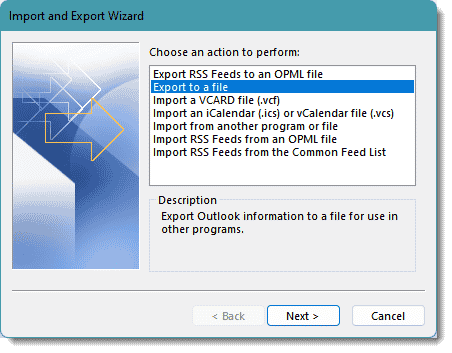 Outlook.com also includes contact export.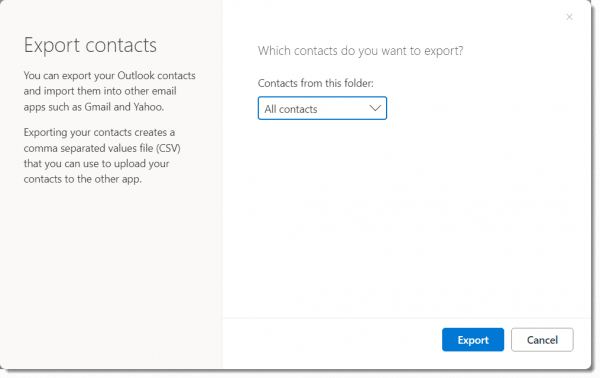 Other programs generally have export options as well. And they all usually work OK, as long as you're importing those contacts into the same email program or interface. This makes exporting a reasonable approach to backing up your contacts, since presumably if you need the backup, you'd be doing exactly that: restoring them  to the same email account or at least the same email program or interface.
Third-party solutions
It's worth mentioning that there are third-party solutions, typically in the form of CRM or Customer Relationship Management programs, which serve as address books on steroids. They solve a much larger problem than just contact information and usually act as the database of contacts in large organizations.
They're often add-ons to existing desktop email programs like Microsoft Office Outlook.
They also store their information in proprietary databases, and while they may offer backup and/or export options, once again, these focus primarily on restoring or importing to the same CRM system.
Import/Export problems
Unlike email itself, contacts do not have a standard export or storage format. Each contact program might keep different collections of data. For example:
One program might allow you to store only one email address or phone number per contact, whereas another might allow for an unlimited number of either.
One program might treat a mailing address as separate address 1 / address 2 / city / state / postal code fields, whereas another might just treat it as a single free-form text blob.
One program might allow you to include additional information like birthdays, notes, or just about anything else, whereas another might keep only the bare minimum required for email.
All this means that what gets exported will vary dramatically depending on the program doing the exporting.
Most programs allow you to export to CSV (Comma Separated Values), but this is a spreadsheet format, not an address book format. Yes, you can open any of them in Excel, so you can access the raw data, but that may not help you when what you really want is to import it into a different email program. The columns may not match up, and the way information is stored is probably different.
The bottom line is that exporting from one program and importing into another almost always loses or confuses some amount of the data involved.
Synchronization problems
Contacts have no equivalent to email's IMAP protocol. IMAP keeps email messages synchronized across all your email interfaces signed into the same account, but it does not include your contacts.
There are a few third-party solutions that try to provide specific synchronization solutions — for example, between Microsoft Office Outlook and Google Contacts. But these are single-purpose solutions, and you have to locate and install add-ons to make it work — if they even exist for your specific situation.
Disk storage problems
One reason I like Thunderbird over most other desktop email programs is that it stores email in an open, common format. Should something go wrong, I don't need Thunderbird to view email messages; they're even viewable in Notepad, and can be imported into other email programs depending on those program's capabilities. The same is not true for Microsoft Office Outlook, which uses proprietary .ost and .pst files to store email on your computer.
Contacts are stored in different (usually proprietary) ways, in different places on your hard disk, by the various programs that save contacts on your PC.
This means that recovering contacts from, say, an unbootable hard disk can be an exercise in frustration. And data loss.
Do this
It's not you, it's contacts. They're frustrating, particularly when it comes to moving them between various email systems.
If you're changing email programs or interfaces, the best you can do is export/import what you can, and expect some loss.
If you can, pick an ecosystem that works for you and stick with it. For example, I'm all-in on Google, because Gmail is everywhere, including my Google Android phone. All my contacts are in both places, as well as my email, and they're automatically kept in sync with the online version.
But even though my email is being automatically backed up by a copy of Thunderbird I keep running in the background, I do have to manually back up my contacts every so often. The only automation I've come up with for that is a monthly reminder to do it.
Speaking of reminders, have you subscribed to Confident Computing? Less frustration and more confidence, solutions, answers, and tips in your inbox every week.
Podcast audio

Download (right-click, Save-As) (Duration: 8:33 — 11.8MB)
Subscribe: RSS