You may recall that I have a Samsung Galaxy Note 7 smartphone, from a video I posted not long ago about how I was keeping it for a while longer than recommended. Something about it possibly bursting into flames.
The responses to that video were … I'll just say polarized.
I was waiting for something better / good enough to come along, and I'm happy to say that as of roughly 24 hours ago, my needs appear to have been met. I'm now the proud owner of a Google Pixel XL (32GB version, in black, for those who care about such things).
Perhaps I'll talk about the phone itself someday, if there's enough interest, but I decided to share the list of apps I installed first, and perhaps a little bit about why.
From triple to double digits
When I replaced my original Note 7 with another Note, I was able to just transfer everything from the old phone to the new.
The Pixel is a different phone, with a little less memory than I had before, so I decided to do what on a PC we would call a "reinstall from scratch". I'd go from the over 150 apps installed on the old phone to (mostly) only what I needed on the new.
The phone came with the OS installed, of course, and a base set of applications, and that's where the good news actually begins. One of the things the Pixel has going for it is that it doesn't have a lot of pre-installed applications.1 My carrier, Verizon, typically loads up their phones with a lot of things I don't need, but not so for the Pixel. It was refreshingly clean.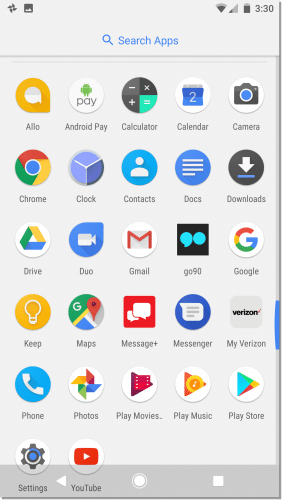 Since we're talking about the Google Pixel, I expected Google to be well represented and pre-installed. However – an experience I've never personally experienced before – all the pre-installed applications fit on one screen.
So, I started installing.
30 apps in 24 hours
I'll list 'em in the order I installed them, but for the most part this isn't really a reflection of priority – it's more a reflection of my memory.
DiskUsage – This may seem an odd place to start, but my Note 7 had 64GB of space, and the Pixel has only 32GB. (I elected not to wait over a month or more to get the 128GB version.) While I calculated that 32GB would be sufficient as long as I was willing to rely on connectivity and the cloud, I still wanted to be able to keep an eye on how space was being used.
LastPass – This, on the other hand, should be no surprise at all. This is installed early because it enables easier logging in to many of the apps that follow.
Authy – Authy is a replacement for the Google two-factor authentication application. Normally, moving from device to device is a hassle, requiring that you detach two-factor authorization from each account on which you use it and re-attach it on the new device. Authy preserves the tokens and allows you to move more easily (with its own master password, of course).
Evernote – I use Evernote a lot. I installed it next because I was collecting this very list of applications as a note. :-)
Kindle – I read. A lot. It's great to have my entire library in my pocket. (Reading is also one of the reasons I've come to prefer the larger screens of the Galaxy Note series, and now the Pixel XL.)
Facebook – You know I'm on Facebook, right? In addition to Ask Leo!, I remain in contact with a large number of personal friends and acquaintances there.
Insight Timer – You may not know that I meditate regularly; I have for years. I use a couple of apps, but this is the one I'm currently using most.
Smart Voice Recorder – I frequently take voice memos instead of written notes. The sound quality on the Pixel is actually good enough that I may do some audio recording for Ask Leo! using this application as well.
Remember the Milk – I do a lot, and Remember the Milk is one of the tools I use to try to make sure it all gets done.
Starbucks – Do I really have to explain this one? Or why it would be early on my list? :-)
ES File Explorer Pro – Being the computer guy I am, I feel the need to be able to view the contents of my device like a disk. I want to see the files and folders. ES File Explorer is the free version; Pro removes ads and adds a couple of other things, like customizations.
Instagram – Ask Leo! is on Instagram, and I use it a little myself as well.
Buffer is a social media management tool that makes it a little easier to manage my posts to Instagram, Facebook, Twitter and more.
Audible – I can't read when I'm driving, so I listen to books instead. A great way to make use of time on the road.
IMDB – I swear, not a day goes by when we're not sitting in front of the TV watching a show or movie and a question comes up. "Don't we recognize that person from somewhere?" "Where was this filmed?" "Have we seen all the episodes?" Not a day goes by I don't reach for IMDB.
Netflix – I don't watch a lot of Netflix on my phone. However, for a variety of reasons, I recently started using my phone and "Google Cast" to control what's being shown on my TV. Like Netflix.
Feedly – I love RSS. It's how I stay on top of what several different websites publish each day, without having to remember to visit each. Feedly is a RSS reader with both desktop and mobile versions. I use them both every day.
Slack – Slack is a team communication application, and as "Team Leo" continues to grow, it's something we use occasionally as we coordinate our efforts.
GroupMe – GroupMe is an instant messaging application. I use it heavily when I attend conferences, and when called out on animal rescue operations.
Seattle Times – The local paper.
The Washington Post – The not-so local paper.
My Fitness Pal – Can an app change your life? This one comes close for me. It was (and remains) instrumental to achieving and maintaining my weight loss of a couple of years ago.
Skype – I use Skype to stay in touch with a number of people.
WhatsApp – The instant messaging and communications program I use to stay in touch with my relatives overseas. It was extra handy when I visited Holland a little while back.
Google News – I was actually surprised this wasn't pre-installed. It's a handy roundup of headlines and news items from a variety of sources.
Weather Underground – Because everyone needs a weather application, right?
Amazon Music – Some years ago I went "all in" with Amazon Music. It's where I purchase most of my music2, and where I uploaded my entire collection of several hundred music CDs. The net result: I can listen to anything I own anywhere. (With Prime Music, I can listen to a bunch of things I don't own as well.)
Snapchat – AskLeo! is experimenting with Snapchat.
Life360 – In the beginning, Google had something called "Latitude". It was a way you could let select people see where you were in semi-real time on Google Maps. Latitude was discontinued, and a crippled, unreliable, not-quite-equivalent feature was placed in Google+. A friend recently turned me on to Life360, and so far, it's doing a great job. It's primarily intended to let parents see where their kids are, but my wife and I use it just for each other.
Prey – Speaking of location, Prey is a security app that allows you to locate your phone, as well as do things like lock it remotely and even remote-wipe it in case of theft. (Also works on laptops, and I have it set up for my phone, my wife's phone, and the laptop with which I travel.)
Those are only the apps I installed in the first 24 hours of having the phone. I expect more will get installed over time as I remember "oh, yeah, I want to do X" a few times.
Hopefully, I won't reach that 150+ level I did on the Note, but … one never knows.
What's missing?
Two questions, if you've followed along this far:
There's an entire class of app I've not installed. Can you identify it?
And, from your perspective, what am I missing? Any cool apps you'd care to share? I'm constantly amazed at the things I can do with this little pocket computer. Here's your chance to amaze me a little more.
Let me know in the comments below.
Podcast audio

Download (right-click, Save-As) (Duration: 10:11 — 9.4MB)
Subscribe: RSS