A business I was working with told me that they 'sent my email address to spam' because they didn't like what I was asking of them. Now I'm a smidge worried. If they added my email address to their spam filter, does that mean I'm somehow going to be pegged as a spammer in the larger Internet world? I seem to recall that someone once told me that anytime someone clicks that a message is spam, it's a strike against you. Enough strikes and we're in trouble. I don't remember how many strikes he said it took to be in trouble, though.
So…am I worrying about nothing? Or should I do something about it, if there's anything to do, that is?
The answer is simple: do nothing.
The reason behind the answer, naturally, is quite complex.
Spam filters – particularly good spam filters – rely heavily on users marking things as spam. In a way, it's a form of "crowd sourcing", where  the actions of users build a database used to determine what is and is not spam in subsequently received emails.
Where your email is marked as spam, and who is doing the marking, has a lot to do with any potential impact on emails you send in the future.
Where it's marked as spam
There are two places that someone might mark an email as spam:
In an email program, like Microsoft Office Outlook, Thunderbird, Windows Live Mail, Outlook Express and so on.
In an online email service, like Gmail, Yahoo! Mail, Outlook.com and others.

1
We can pretty much rule out the first one as a problem for you right away.
Marked as spam on the desktop
When someone marks a message as spam in a desktop email program, that information typically applies only to the individual doing the marking, and only on that specific email program, installed on that specific computer.
In other words, marking as spam in an email program doesn't actually impact anyone else at all.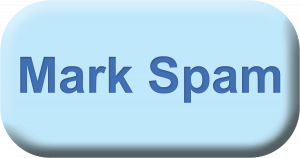 Yes, if your email gets marked as spam enough times, email from you may go directly to that person's spam folder, but only for that person.
That scenario is nothing you have control over, but also nothing you need to worry about.
Online is a slightly different story – but only slightly.
Marked as spam online
I'll use Gmail as an example, using its Web interface, but the concepts generally apply to most online email services that provide some kind of spam filtering.
When someone marks your message as spam, Gmail may take that as a mark against you that could impact your deliverability to others also on Gmail. But only for other recipients on Gmail.
The bottom line here is that for shared online services, that "mark against you" applies only to that specific shared online service. Get enough marks as spam from Gmail users, and the Gmail spam filter will start dropping your messages into the spam folder.
Or will it?
Practical effects of being marked as spam
The problem is that spam filters are incredibly complex. They look at much more than who sent the email. Remember, in "real" spam, the "From:" line can be completely spoofed, which makes it an unreliable indicator of spam all by itself.
Instead, email service spam filters look at:
The content of the messages.
The reputation of the email service or server being used to send the mail.
Timing.
The number of recipients.
And much more.
In fact, just about any email characteristic you can think of – and probably several you can't – are factors in determining what is and is not spam. So it may mean nothing at all if one person keeps marking you as spam, even on a shared system.
Personalized results
If someone marks your email as spam often enough, your email may end up being considered spam for them.
Even on a shared system like Gmail, spam filters can be different for each recipient. What Gmail considers spam for you might be different than what it considers as spam for me, because we consistently mark different kinds of things as spam.
That means if one person marks your messages as spam a bunch of times, and others do not, Gmail might say, in effect, "well, this person thinks it's spam, so I'll just spam it for him alone". As soon as you start getting multiple reports from multiple different recipients, a more global algorithm is likely to kick in.
And yet…
Here's where things get even more vague.
I use Gmail as my example because it has one of the best spam filters out there. Other services have spam filters of various levels of quality and capability … or close to none at all. So everything I just described for Gmail might not happen for, say, Microsoft (outlook.com, hotmail.com, msn.com, live.com, etc ), or happen to different degrees or with different rules.
If someone has email based on their own web hosting (folks who have custom domains, and email addresses on those domains), their spam filter may do something else entirely.
It's incredibly difficult to know.
The "larger internet world" doesn't really exist
In reality, when it comes to spam filtering, there's really no "larger internet world", at least at the level of the individual sender.
When one person marks your message as spam it may:
Make it more likely your email to that person will end up in their spam folder.
Might make it very slightly more likely that your email to others using the same email service might end up in their spam folders.
Not affect your ability to deliver to anyone else.
I guess that's a really long answer that, for the scenario you describe, boils down to: don't worry about it.
Podcast audio

Download (right-click, Save-As) (Duration: 6:25 — 5.9MB)
Subscribe: RSS