This is one of those "rules of thumb" that have come into existence in recent years that, in my opinion, is totally overblown.
Sadly, webcam manufacturers are feeding the paranoia by providing easy-to-use lens covers with their products. There's nothing wrong with that, other than it does increase the apparent need for the practice (and perhaps the price).
Cover the webcam if you must, but you can probably guess what I'm about to say.
You're probably not that interesting
I have several cams — external cams, cams built into my display devices, cams built into my laptops, and probably more. There are two cameras in my mobile phone. They're all uncovered all the time, even the one with a handy flip-over lens cover.
I'd be shocked if there was anyone who cared about what they might see.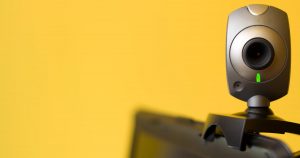 Honestly, even if someone did manage to somehow surreptitiously turn one on (without an activation light, which isn't always possible, depending on the hardware), and recorded what they saw, it's not like they'd be getting blackmail material. At worst they might record me picking my nose while staring at my computer screen. More likely they'd just get a scary picture of my morning bed-head.1
I freely admit this is the "I've got nothing to hide" defense. But it's paired with another.
Your security practices are probably doing their job
Any software that somehow activates your webcam (or microphone, or anything else on your computer) is by definition malicious software.
You take steps to prevent malware, yes? You're following the recommendations outlined in my single most important Ask Leo! article, right?
Use a firewall (automatically the default under Windows).
Scan for malware (automatically the default under Windows).
Stay up-to-date (automatically the default under Windows).
Educate yourself (you're reading Ask Leo!).
Secure your network (I've shown you how).
Don't forget physical security (particularly important for portable devices).
Back up (something I harp on all the time).
If you're doing all that, as I am, the chances of malware making it to your equipment are already low.
What if you are interesting?
Much of this paranoia came from a picture of Facebook's founder Mark Zuckerberg that showed his camera and microphone both covered.
I think it's safe to say that Mr. Zuckerberg is what could be referred to as a "high value target". What he says, what he does, and what those devices might record would be very, very interesting.
Don't take this the wrong way, but … you're no Zuckerberg. Don't worry; neither am I.
But if, for some reason, you feel you are — that whatever you have to say is so incredibly valuable that capturing it would be valuable to others or damaging to yourself, then by all means… cover your camera. Unplug your microphone. Maybe don't have a camera in your bedroom.
Oh, and turn off your phone when you're not using it, also. (Something I expect Zuck's not doing.)
Cover it up if you like
To be clear: there's nothing wrong with covering your camera lens when you're not using it. If it helps you sleep at night, go for it.
But in my opinion, there's simply no need to worry or be paranoid about it.
Podcast audio

Download (right-click, Save-As) (Duration: 3:44 — 1.8MB)
Subscribe: RSS
Video Narration