I have several USB devices, and I'm used to using the "safely remove hardware" icon in the taskbar before I unplug any of them. All of a sudden that icon has disappeared, and I see no way to "safely remove hardware". What do I do? Can I just unplug the device I want to remove anyway? Or do I need to reboot every time this happens?
This happens to me all the time. The remove hardware icon in the taskbar's notification area disappears occasionally for reasons unknown. I've never actually had a problem just unplugging the device anyway, but it still makes me feel uncomfortable doing so.
So, I stumbled onto a fairly reasonable workaround.
Normally, when you have a removable USB device installed, Windows displays a small icon in the notification area (the right most collection of icons) of your task bar:

If you hover your mouse over it you'll see it's tool-tip: "Safely Remove Hardware".
The purpose of "Safely Remove Hardware" is simple: it's how you tell Windows that you're about to remove a device so that Windows can finish whatever it needs to do with it. In the case of disks, for example, Windows flushes all disk buffers, avoiding things like potential corruption.
And that's the fear – if you remove something like a USB thumb drive without first telling Windows, it's possible to corrupt the contents of the drive. In practice that doesn't happen often, but it's possible.
The problem is that occasionally, for reasons unknown, the "Safely Remove Hardware" icon can disappear. Even though there are devices installed that require it – it's nowhere to be found.
When this happens, what I've found is that you can click on Start, Run…, and type in:
RunDll32.exe shell32.dll,Control_RunDLL hotplug.dll
And press OK.
That will bring up the "Safely Remove Hardware" dialog: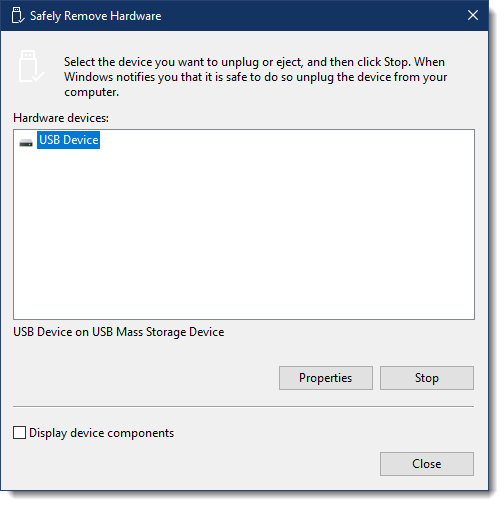 From this dialog you can click on the device you want to remove, and press Stop. Once Windows is done with it, you can then remove the device.
Of course a side effect I noticed when I did this was that the "Safely Remove Hardware" icon reappeared.
If it happens often enough, you can create a desktop shortcut for that geeky looking command.
Right click on your desktop, click on New, and then click on Shortcut. In the resulting dialog box enter that "RunDLL32" command listed above.
Now, whenever you need to remove hardware, and the icon isn't present on the taskbar notification area, you can simply double click on this new shortcut and get the job done.