Question: Is there a place to easily report issues that have been caused by recent WIN 10 updates?
I have a couple of suggestions on where to report Windows 10 issues.
One may lead you to find that not only are you not the first to experience an issue, but there may already be solutions.
You're not the first
I hate to break it to you, but you're probably not the first to experience whatever issue you're seeing. I don't even have to know the specific issue to make that statement. There are just so many people running Windows that the chances of you being the first to find and report any specific issue are minuscule.
I don't want you to get your hopes up, or think Microsoft doesn't already know. They probably do.
That being said, the number of people experiencing an issue is also useful information to them, so if you're of a mind to report the issue, by all means do so.
But I want you to do it a little differently than you might expect.
Search for answers
You've probably already searched the internet for answers to the problem you're experiencing. That's not quite what I'm talking about.
What I want you to do is visit the "Microsoft Community" at answers.microsoft.com.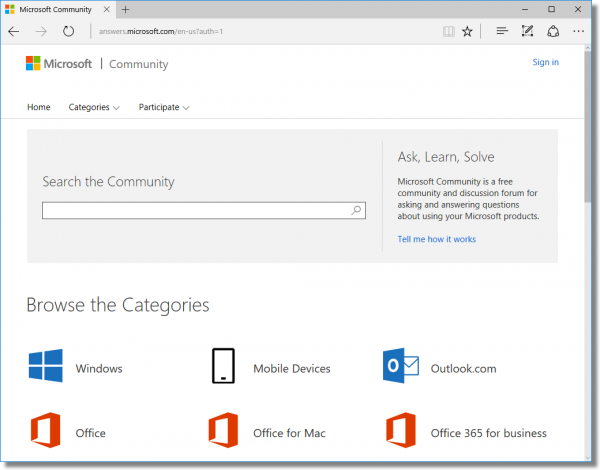 I have three reasons for sending you here first.
As I said, you're extremely unlikely to be the first to experience an issue. Others with the same or similar issues may also have come to Microsoft's community support site and posted about their issue. They may even have found a fix or a work-around you can use.
Posting about the issue, or seeing that the issue has already been posted, is one way to "report" the issue to Microsoft, as well as help others who are in similar situations. Microsoft staff does monitor what happens here, and while they don't always reply directly, the forums are one place they gather data about Windows and other Microsoft applications.
You can get email notifications for issues you post about or indicate an interest in. If a problem is resolved or a work-around discovered in the future, you may well hear about it this way.
The quality of the discussion or solutions you find here is inconsistent, to put it politely. However, it is, by definition, the official forum for Microsoft, one they should pay attention to.
The feedback app
In the Cortana/System search box, type "feedback". One of the entries will be the Feedback Hub (new in Windows 10). Click on that.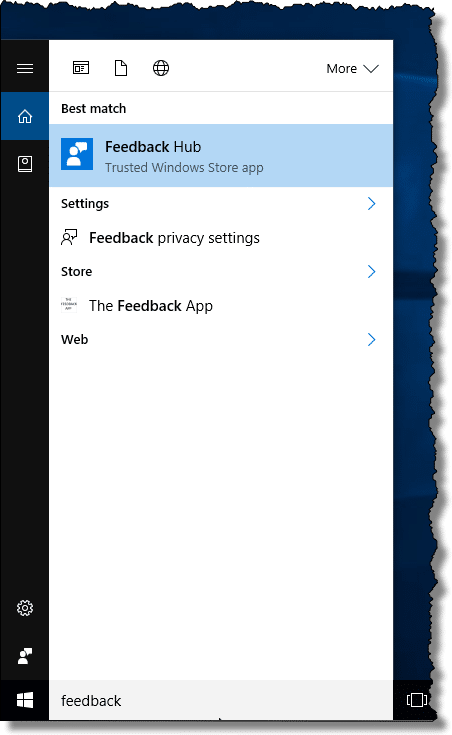 You will need a Microsoft account to run the app, but you do not have to change your computer to use a Microsoft account login; just select "sign in to this app only" when prompted (not pictured).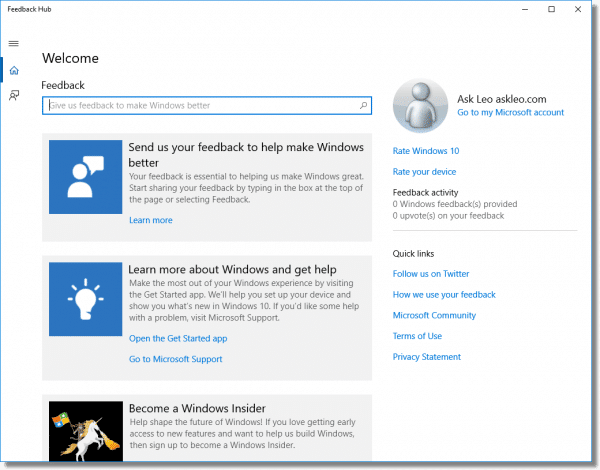 This app is a way to give any and all feedback you have on Windows 10 directly to Microsoft.
Enter up to 150 characters1 of feedback and press Enter to submit. Based on what you've entered, the Feedback Hub will give a short list of what may be similar feedback, along with a button to add your feedback to the collection.

If you believe your feedback is new, or adds value, click on the Add new feedback button, and you'll be taken to another page where you can add details, categorize your issue, and even attach a screen shot.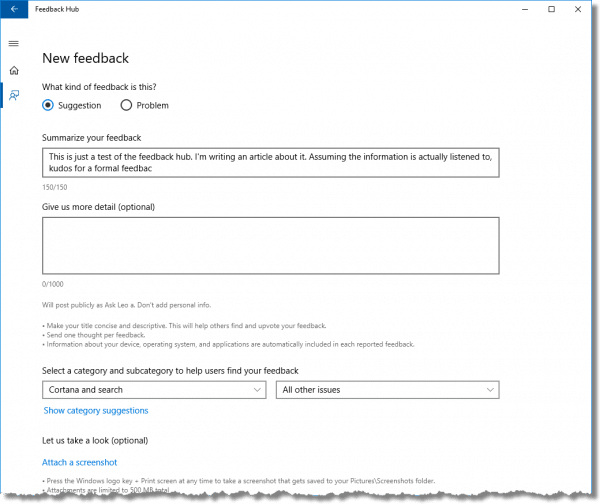 After submitting your feedback, you'll get an acknowledgement.

This is a fine way to report Windows 10 issues, but don't expect a personal response. Microsoft gets much too much feedback to be able to take the time to respond to every submission.
But you'll have accomplished your goal: the issue is now in Microsoft's hands.
Podcast audio

Download (right-click, Save-As) (Duration: 4:18 — 2.0MB)
Subscribe: RSS