So. Many. Programs.
When you start Windows, many programs start automatically as well. Some of them don't need to.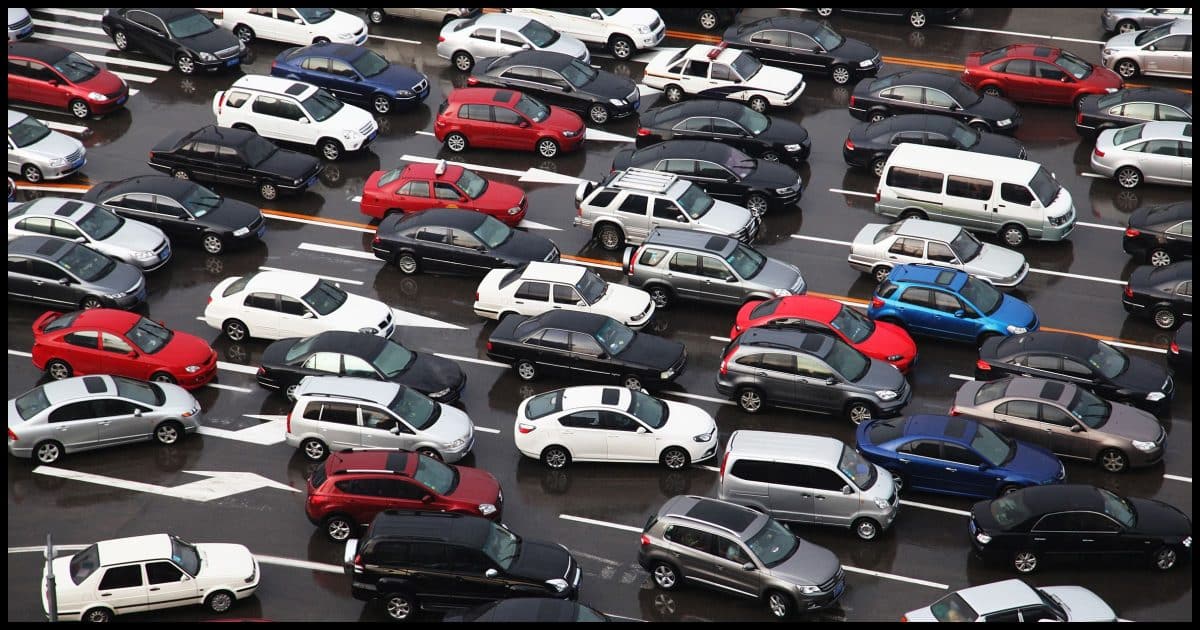 Question:
What's all this stuff running after I boot Windows?
When you start Windows, you're starting much more than an operating system.
In addition to Windows itself, many installed applications have tools or utilities or components that start automatically with the system, or later when you sign in.
Since every system is different, I can't tell you what's running on your machine, but I can tell you what kinds of things contribute to all that "stuff" you see.
Programs running after boot
Windows runs many, many programs on startup. Several are required by the software you've installed or use. Some are installed by software you've added and aren't technically required, but run on startup anyway. Start with the Startup apps tab in Windows Task Manager to identify common items that are generally safe to disable. For a deeper dive, run the Autoruns utility, but take a full system image backup before changing anything.
Tools you use
Many startup tasks are necessary to carry out the things you expect your computer to do.
For example, if you run a messaging app of some sort, chances are you'll want it to be running as soon as the computer starts. Similarly, tools like Dropbox and OneDrive have components that need to run automatically so they can provide the functionality you expect.
Your backup software is another good example. If you have it configured to back up automatically, one of the common approaches is to launch a helper app at startup time that then starts the backup when conditions are right.
Tools you don't use
Many programs you have don't need to run automatically at all, but they add themselves to your startup menu anyway, slowing things down.
Some are benign but unnecessary. For example, I might have a messaging program installed because I use it once in a while, but that doesn't mean I want it running all the time. But the program assumes I do, and starts automatically anyway.
Some are annoying because they're unnecessary. For example, many software packages launch utilities checking for updates to the software. Updates are necessary, but checking every single time I sign in is not. (Checking when I run the program is my preferred alternative.)
And some are just wrong. I still don't know why "acrotray.exe" (a utility associated with Adobe Acrobat) continues to run automatically and constantly on some of my machines no matter how many times I swat it away.
Swatting away startup tasks
In Windows 10 and 11, right-click on the Start button and then on Task Manager. There, click on the Start Up tab (on top in Windows 10, on the left in Windows 11).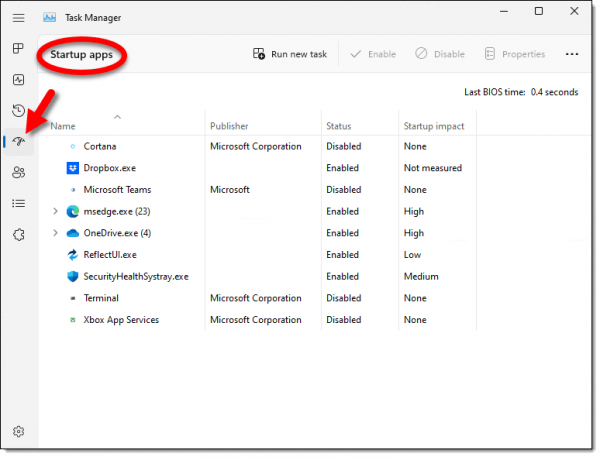 This exposes the most common and easiest to control list of startup entries. You can disable or even delete items from the list so they don't start up next time you reboot.
A much more extensive list can be exposed using a free tool called Autoruns. It is indeed a much more extensive (and risky) list.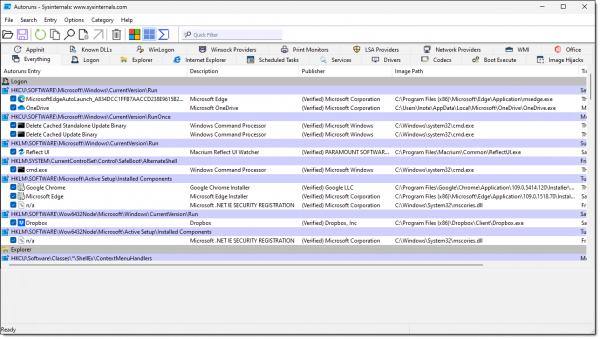 This includes not only the items exposed by Task Manager, but almost every other item in Windows that runs automatically at boot or at sign-in.
The risk is this: some of those items that start automatically are required. They're part of Windows itself. If they're disabled, you can break Windows or even render your system unbootable.
Do this
So, what can you delete?
If you're not sure, it's safest to leave things alone.
Programs and components you can identify that aren't part of Windows (or from Microsoft) are often safe to disable, usually resulting in only minor functionality loss if you even notice anything.
Usually.
Disable or delete with caution. Only use Autoruns after having made a complete system image backup.
Subscribe to Confident Computing! Less frustration and more confidence, solutions, answers, and tips in your inbox every week.
Podcast audio

Download (right-click, Save-As) (Duration: 7:45 — 10.7MB)
Subscribe: RSS