I'm fairly certain that much will be written today about Steve Ballmer's decision to retire from Microsoft within the next year.
I don't normally post about so-called "breaking news," but in this case, I want to throw my two cents in as well.
Steve's the guy that ultimately hired me into Microsoft back in 1983. To say that I'm grateful for that little turn of events would be an understatement, as you might expect.
Steve's a great guy. You probably know him in part for his "cheerleader" approach at assorted Microsoft events, but that's just one aspect of a very gregarious and approachable personality. In the early days, unlike most of the techy geeks around him (i.e. me), he simply knew everyone by name. That's hard enough in a 360-person company (as it was when I started), but he was still going strong when it crossed into the thousands.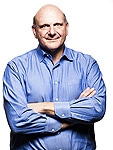 We only interacted personally perhaps four or five times mostly in those early years1, but I'm fairly certain that were we to cross paths today after not seeing me for over a decade, he'd still quickly throw a "Hi Leo!" my way. That's just the kind of person he is.
He's also a salesman – a marketer – which was exactly what Microsoft needed as it was growing. That gregarious, salesy skill set was a perfect compliment to Bill, who hung out at the other end of the bell curve.
When Bill stepped down as CEO years ago, Steve was the natural replacement for that role.
The problem, however, was that Steve is not Bill.
Not that Bill Gates needed to be the CEO, but rather that in addition to being CEO, Bill had been responsible for providing the technical direction and leadership for the entire company since the day it was founded. Like so many tech companies, it was the founder's vision2 that took Microsoft to its heights and the loss of that vision that brought on stagnation.
I honestly don't know if Steve tried to provide that technical leadership himself, but I suspect not. My guess is that he relied on advisers of various flavors to do so. Unfortunately, the result was not the focused, single-purpose vision that had previously come from a single visionary.
Regardless of exactly how, why, or when, it was the loss of Bill's leadership that cost Microsoft its edge. While good at many things, Steve simply hasn't been successful at figuring out how to replace that.
I do know (and I'm pretty sure that he would agree with me) that Steve Ballmer wasn't the man to provide it. Apparently having someone else be the visionary with Steve as CEO wasn't working either.
Ultimately, his departure makes sense. Whether or not there might have been a solution that kept Steve at the helm, this is really the kick in the pants that Microsoft needs to renew its vision and review its role in the world. Both the company and Steve's eventual replacement have serious problems to deal with in terms of direction and vision. The sooner that starts, the better.
The environment Microsoft grew up with relied on that single visionary at the top, the one to point out the destination, and say, "This is where we're going." That's the kind of person that Microsoft must now hire as CEO.
If Microsoft hires another "business man" or salesman, I predict only stagnation will result. I hope I'm wrong. In my opinion, Microsoft's problems aren't related to business or sales and continuing to focus on them simply won't help.
If Microsoft hires a tech visionary – dare I say it, a nerd – as its next CEO, there's a chance.
Thanks to Steve, Microsoft knows how to do "business."
It needs to relearn how to do "tech."
Best wishes, Steve. Take a break. Lord knows you've earned it.
Oh, and thanks again for hiring me. :-)