Question:
My MSN email account has a virus and I can't seem to get any help via MSN to get rid of it…this is why I feel that I must close it. Do you have suggestions for how I might get help with the infection and keep my account or should I do as you suggest and just stop using it?
I believe you're heading off in the wrong direction.
Yes, if you want to close your account then absolutely stop using it.
But the question actually shows a very common misunderstanding of what's probably really going on.
You see … email accounts don't get viruses.
Email & Viruses
Email accounts do not get infected with viruses. They may carry viruses as payloads in email messages, but viruses to not affect the email account itself.
Viruses infect computers, not accounts.
I can hear a bunch of people immediately saying "well, then MSN / Hotmail / Windows Live has a virus on their computers!
"
It didn't take a virus to do this.
No.
While it's theoretically possible, it's so incredibly rare compared to other possibilities that it's honestly not worthy wasting a moment even thinking about. Besides, if they did they'd be all over it and would resolve it extremely rapidly.
So, then, where's the virus?
There probably isn't one.
Email & Hackers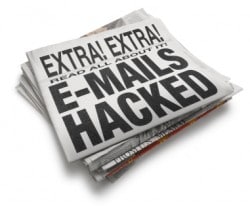 You didn't indicate what leads you to believe that your email account has a virus, however if you're situation is like any of the hundreds of reports I see every week, it's very simple:
Someone is sending email from your account, probably to email addresses that are in the contact list or address book of that account.
That's no virus. That's a hack.
Someone has gained access to your email account and is sending email from it.
Someone guessed your password, or stole it somehow to login to your email account. They may not even have changed the password, which means you could be logging in normally while all this is happening unaware that there's a problem at all, until your friends start complaining.
It didn't take virus to do this.
It just took lax password security like an easy-to-guess password, or logging in to your email without using encryption at an open WiFi hotspot, perhaps trusting someone you shouldn't have, or …
OK, there's one scenario where malware could be involved: you could have a key logger installed on your machine, or you used a machine (typically a public machine) that has a key logger installed.
Email "From" You, but Not
I want to be clear that there are a couple of scenarios where email comes "From" you when it's not really from you:
"From:" Spoofing: The email address in the From field is faked to look like it comes from you, but it has not. In fact you had nothing at all to do with it. Unfortunately, since you had nothing to do with it, there's nothing you can do. Spammers have been using this technique for years.
Account Hack: As described above, someone has actually gained access to your email account and is using it to send email. It looks like it's from you because it really is from your account. Again, no virus, just a simple case of an account being hacked into.
While as I said the first case has been going on for years, I've seen a significant increase in the number of people who's accounts are getting broken into.
What To Do
This is where it gets ugly.
If you still have access to the account, then rather than closing it you should immediately change your password and every other bit of information stored as part of the account that could be used as account password recovery information by the hackers. You must assume that the hackers will have read all of that and perhaps changed some of it and that they are prepared to perform an account recovery to re-hack your account at any time. More on this here: Is changing my password enough?
If you don't have access to your account then your options are seriously limited. For example, you need to have access to your account before you can close it, so you can't simply close it. You'd need to regain access, at which point you should do what I just suggested: change all the information in it.
Regaining access to the account is often difficult to impossible. The section on "Losing and Regaining Account Access" in What are my Lost Hotmail Account and Password Recovery Options? details what options you have.
If you can't regain access to your account, then I suggest you simply move on:
Create a new account
Use a strong password
Tell all your friends, business relationships and newsletter subscriptions your new email address
Think carefully about how your account could have been hacked, so that you don't let it happen again.
And, sure, an up-to-date anti-virus and anti-spyware scan of your own machine(s) wouldn't hurt.
In fact, refreshing yourself on how to stay safe on the internet might be a good idea as well.