My printer prints so small that no one can read it. How do I change the size of the fonts?
This is a very common problem.
Unfortunately, there's no single solution that applies in all cases; the issue can be caused by many different things.
Just as unfortunately, it's rarely the printer itself at fault, but the software involved somewhere along the way. I'm afraid the result can be exceptionally complex and confusing.
Printers just follow orders
A printer only does what Windows and the applications that are printing tell it to do. Those, in turn, only tell the printer what to do based on the characteristics of whatever it is you're printing.
That means if it's printing too small, either what it's printing actually is small, or the application doing the printing is telling it to print at that size.
I'll break that down into two areas: the printer driver and application you're using to print, and the source material you're printing.
Printer drivers and applications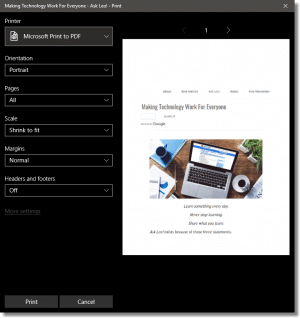 Printer drivers, and the options they expose, is the first place to look.
Unfortunately, it's also the most complex and, quite frankly, the most frustrating place to look.
In addition to a "system" print dialog, each application that can print – such as your word processor or your internet browser – can provide its own printing interface instead (which can, optionally, also allow you to go back to the system dialog if you prefer). Multiply that by the number of printers which can then provide their own printer-specific information or settings dialogs, and the number of different dialogs and collections of print-related settings quickly becomes overwhelming.
Needless to say, I can't give you "click here, then here" kind of directions for this. You'll need to do some exploring.
Start with the print dialog for the program you're using. Options here are generally limited to the basics: page range selection, orientation, perhaps margins, and so on. On some, however, there may be what's called a "scaling" option. This allows you to specify that the page should be printed as-is, at 100%, or alternately "scaled to fit" – zooming in or out to fit the content to the actual size of the printed page.
If there's nothing helpful in the initial dialog, then look for "settings", "preferences", "more settings", or "advanced settings", which may give you access to more advanced controls for your printer from that application. If present, "zoom" or "scaling" options are often buried in advanced dialogs.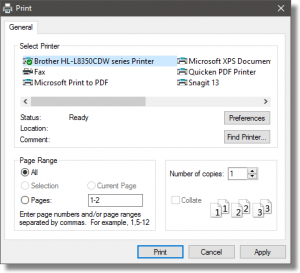 As I mentioned, many applications present their own print dialog, but in many cases also allow access to the "system print dialog" – meaning the default Windows print dialog – as an alternative. Look for an option to do so, and then go exploring in the settings presented there.
Exploring the various options exposed by the print dialog and the printer driver, while confusing, is often the best first place to start.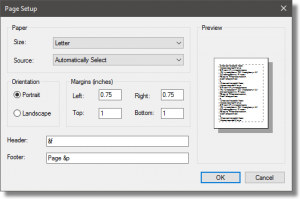 Many applications also include a "Page setup" option, often under a File menu, separate from the actual Print option. These usually include settings such as margins, print area, and more.
Choosing what to print
The most common mistake I see is that when viewing a web page, people just use the browser's print function. It's counter-intuitive, but that is rarely the best way to print the contents of a web page (unless you want all the ads and extraneous material).
On many web pages, there is a link that allows you to print a minimally-formatted version of that page that looks better on paper. (It's possible for web pages to do this for you automatically, but generally they do not.) Especially when it comes to email applications, this approach to printing a message can have dramatically more satisfying results (be sure to open the message in its own window to start – a "preview" window of email rarely prints well at all).

Look for a printer icon, for a "formatted for print" link, or something similar. Click on that, and then use the browser's print function to print the result.
More advanced solutions
Many applications have a great deal of control over what portions of what you're looking at are printed. Microsoft Office programs, for example, often include the ability to scale, define the range of pages you want printed, margins, headers, footers, and more, all within the application.
If you print often, it can be very helpful to familiarize yourself with these options.
When things still go wrong printing web pages
Sometimes the options you want simply don't exist. Be it the application or the printer software, no matter what you do, the web page you're attempting to print just prints wrong.
I have two last-ditch things for you to consider:
Evernote (as well as a few other applications, such as Pocket) have the ability to 'clip' web pages. The application makes a copy of the page you're viewing, often with the option to clean it up significantly. Then you can print this copy instead of the original.
Copy/paste is your friend. Depending on the content, sometimes the most expeditious solution is to select the content you want to print, copy it, and then paste it into a word processor where you have more control over how the results will be printed.
Printers – it's complicated
There's no doubt that printing is complicated. In part, this is due to the fact that printers can be so incredibly different from one another. In part, it's due to the fact that printing is often an afterthought in many applications.
Regardless of the reasons, when you encounter problems such as print that's too small to read comfortably, it's time to go exploring.
Be sure to bring a healthy dose of patience when you do.
Podcast audio

Download (right-click, Save-As) (Duration: 7:04 — 6.5MB)
Subscribe: RSS