Windows Update is one of those more-or-less magical components of Windows that we all know should be turned on and that we all hope never causes us a problem. When it's working properly, it's something that we can usually just take for granted.
There's actually more to Windows Update (or "Microsoft Update," if you have it configured to update all your Microsoft products) than simply downloading and installing the latest security patches for us.  For example, you may want some updates but you're not aware of them.
And there may be updates that Windows Update offers that simply annoy you.
Let's look at managing Windows Update a little more proactively.
Just turn it on
To be clear, you should turn it on.
It's important that you have Windows Update configured to automatically check for, download, and install important and critical updates as they become available. This is an important step to keeping your computer safe and secure as fixes are made to various Windows components.
In the Windows Update section of Control Panel, click Change settings: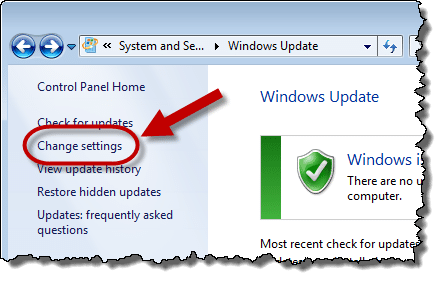 The result will be the list of options associated with updating your machine automatically: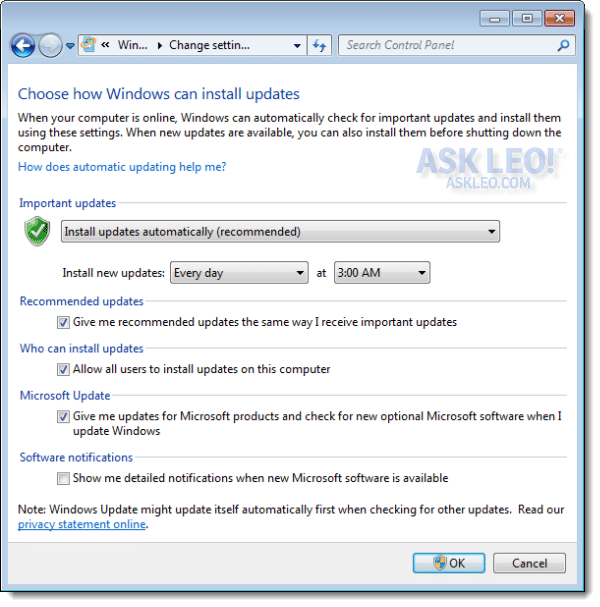 Unless you have specific reasons to do otherwise, I recommend that you have Windows Update install updates automatically. Recommended updates are a matter of choice and we'll be looking at an alternative to taking them automatically in a moment. I do recommend that you let Windows Update operate on all the Microsoft software on your machine.
Letting Windows Update update your machine  regularly and automatically is a critical part of keeping your machine safe and secure.
But there's more.
Visiting Windows Update manually
Every once in a while, I think it's a good idea to fire up Windows Update manually and see what it has to offer. Typically, there's more than you might expect.
Windows Update can be reached either by the Windows Update item on the Start menu or by searching for Windows Update within the Control Panel.
When you fire it up, it's possible that there will be pending updates available, but not yet installed:

The "important" update is likely to be installed the next time that Windows Update performs its scheduled automated update. The optional update, however, is just that – optional, but in need of your attention. Click that line.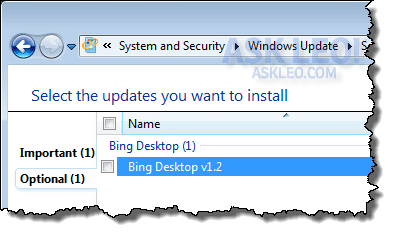 As you can see, I have one optional update available, the Bing Desktop.
If an optional update is listed and you want it installed, make sure the checkbox to its left is checked and click OK.
But what it you don't want the update? In fact, what if you know that you'll never want the update?
Hiding updates
Naturally, you can safely ignore any optional updates, but as we'll soon see, that can become quite annoying as optional updates accumulate over time.
Fortunately, you can hide them.
Right-click the update item that you know you'll never want: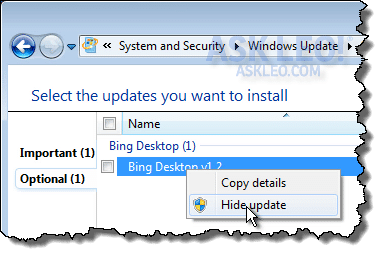 Click Hide update. The item will not disappear instantly, but it will no longer appear in subsequent visits to Windows Update, and it won't be included in the count of available updates:

It's a fine way to make your visits to Windows Update less annoying. And yes, they can be annoying. Let me show you why.
Un-hiding updates
Let's say you've hidden lots of optional updates over time. One day, you realize that you think you really do want that update that you vaguely remember having hidden.
Fortunately, you can un-hide.
On the left side list of options in Windows Update, click Restore hidden updates: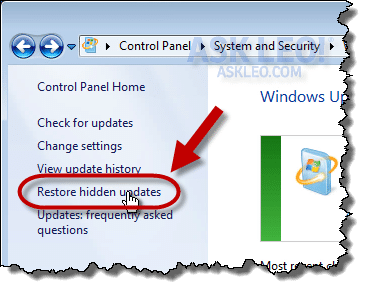 The result is a list of all of the updates that you'd hidden in the past: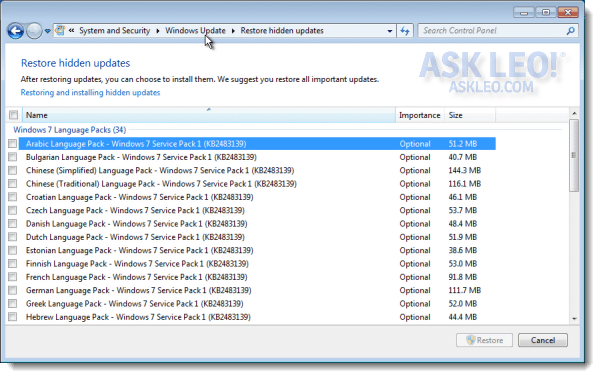 As you can see, I've already hidden quite a few. This list is long enough that if I waded through it each time I visited Windows Update, I might well have missed something important or at least interesting. So I carefully hid all of the updates that I knew I would never need.
To unhide an update, click on the checkbox to its left, and then click the Restore button. That will return the update to the list of available updates. You can make the final selection to include it when Windows Update updates your machine.
Letting Windows Update update
Theoretically, by simply setting all of the automatic settings in Windows Update and manually dealing with the optional items every so often, we should be completely done with Windows Update.
Color me paranoid, but because I'm here in Windows Update, I want to let it run to completion. I want to see that my machine is completely updated.
So, I select the updates that I want installed (including the important ones that would probably get installed later anyway) and click Install updates.

I then let Windows Update do its thing. Depending on the number of updates and their size, it could take a little time. It may even require a reboot with update processing both while the machine shuts down and comes back up.

After it's all done, I run Windows Update one last time to confirm that the machine is now as up-to-date as possible:

Is this really necessary?
Is keeping your machine as up-to-date as possible really necessary? When it comes to critical and important updates, it absolutely is. As I've said above, it's an important part of keeping your computer secure and protected against the latest malware out on the internet.
When it comes to the optional components, it's something that you can get away without ever looking at them. I recommend an every-so-often look anyway simply to keep abreast of possible improvements and make explicit decisions about things that you don't want so they don't accidentally land on your machine at a later date.
Finally, running Windows Update manually every so often is one more confirmation that everything is working as it should… or an important reminder that something needs to be looked at if it fails.