Question: Just noticed the icon prompting me to reserve my free upgrade to Windows 10 (currently running Windows 7 Pro SP1). Is it legit? If so, would you recommend jumping right on this, or waiting a few months while others get the bugs out?
Yes, it's legitimate.
Whether you do it is up to you, but it's not going to get you what you think.
And somewhere, I swear, there's a marketing "professional" that needs a good talking to.
The Get Windows 10 icon
I got a flood of questions today about a "Get Windows 10" taskbar icon that appeared on many people's machines.
In many ways it "feels" like it could be malware. It shows up without notice, promises you something (for free, no less), and leverages current news – the impending release of Windows 10, whose release date just happened to be announced today.
It is apparently quite legitimate.
And also quite misleading.
You won't get Windows 10. Not yet, anyway.
The Windows 10 Giveaway
Click on the icon and a window will come up with the Windows 10 offer.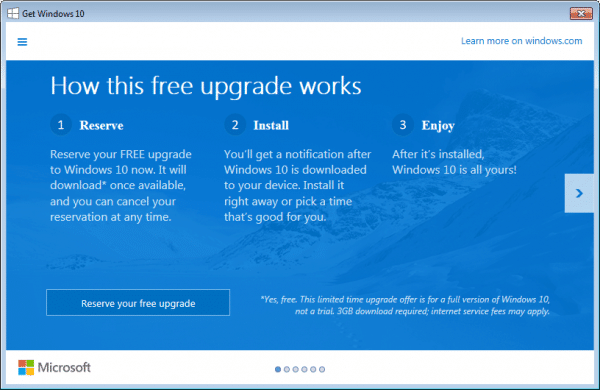 You might think that accepting this offer means you would get Windows 10 right now.
Nope.
Read it carefully, and you'll see that this simply reserves your copy of Windows 10 and authorizes it to be downloaded when Windows 10 is finally released, currently scheduled for the end of July.
To the best of my knowledge, you're reserving something that doesn't need to be reserved. You can upgrade to Windows 10 after it's released – for free – without "reserving" it beforehand.
In my opinion, this is all just marketing. And not very good marketing at that, since it's actually scared many people by acting like common malware.
Should you reserve?
There's nothing wrong with "reserving" Windows 10. It just means that on release day, it'll start downloading. Note that it's a three gigabyte download, so it'll take some time.
Once downloaded, you can install it.
Once installed, you're running Windows 10. For free.
All "reserving" seems to do is request that the download begin when Windows 10 is released, automatically, without further interaction on your part.
But I'm not sure I'd reserve it just yet.
Should you get Windows 10?
Getting Windows 10 is a bigger question.
To begin with, I generally recommend waiting a couple of months after release anyway, so that more of the bugs and issues have been identified and worked out by its release "into the wild". Anything as complex as an operating system of this magnitude will have issues that are only uncovered after release.
So, I wouldn't be in a rush. And to be clear, this means that, no, I would not "reserve" my copy today.
Thereafter:
If you're running Windows 7 or 8, and you're content, I'd wait even longer. I'd wait until it's convenient, though I would upgrade before the free offer is discontinued. At this writing, that's something like a year away. Once again, no rush.
If you're running Windows XP or Vista, and your machine is capable of running Windows 10, then I'd probably recommend you upgrade – again, though, not until a couple of months or so after the official release.
Back up first!
Regardless of what you choose – reserve Windows 10 now or get it later – I strongly recommend that you take a complete system image backup prior to installing the new version.
As I said, some issues are bound to remain. If one of those issues happens to affect you, then restoring to the backup you took immediately prior to the update can save untold amounts of grief.
On that day you install Windows 10, before you click the "install now" button …
You may be be VERY glad you did.
Podcast audio

Download (right-click, Save-As) (Duration: 4:42 — 4.4MB)
Subscribe: RSS