Leo, is there a program updater out there that you recommend? I'm currently running Windows 7 on my laptop and Windows 8 on my desktop.
The answer really depends on what you mean by program updater. If you mean a third party program that will somehow keep track of all the various versions of all the various software that you have installed and try to manage updates for you, there are a couple to try. But it's an incredibly difficult problem to solve and solve well.
Relying on the software itself
My personal approach is to use no additional software.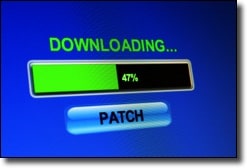 If software installed on my machine updates on its own or notifies me of available updates, I let it. I use Windows/Microsoft Update to update Windows itself automatically, as well as any additional software like Microsoft Office that it might keep track of at the same time.
Ultimately, I just let everything update itself if it can, automatically if possible. Everything I else, I pretty much ignore until I have some reason to care. And when you think about it, most of the major software these days, and particularly the software that has major impact on security, is already updating itself one way or another.
Updaters
Now at the other end of the spectrum, there are programs that will do the installs for you or inventory your system and tell you what's out of date.
Ninite is a program that I keep hearing about that automates the install of a number of very common programs, and at the same time apparently also keeps them up to date.
Ninite makes the installation easier by essentially just letting you choose from a menu of possible programs. When you click on "ok", it then just installs them all without you having to do them one at a time, avoiding most foistware in the process. One of my assistants is a real big fan, and it's on my list to look at more closely some day.
The Secunia Personal Software Inspector is a tool that examines the software installed on your machine with an eye towards security.
You download it, you run it, it tells you what's out of date, and then it gives you the option to update those things that need updating. I have it, but it's been a while since I last ran it, so I just now ran it on my Windows 8 machine preparing for this article. It told me about 12 programs on my machine that needed updating; all of which I understood and expected (it's a kind of side effect of how I manage my utility software). And it also told me that there are 103 programs that are up to date.
If I was going to recommend one program for most people with already-installed software, it would probably be Secunia's free tool. It does install software that then keeps running, presumably to keep monitoring what tools are out of date and need updating – so there will be a little icon that will show up in the notification area after you've run the free tool. You can turn on this off, but it is there by default.
Update scanners to avoid
I do have to point out one area where free update scanners can often cause much more harm than good, and that's with respect to drivers. There are tons of ads out there for utilities that will scan your computers for updates and a large number that are specifically targeted at updating drivers.
I avoid them all.
Don't do it. Aside from the usual scams that actually do nothing in exchange for your money, automated driver updates by these utilities often result in systems that end up with more problems, not fewer. When it comes to drivers, I recommend only updating them when offered or recommended by Windows Update; when offered or recommended by the software already on your machine for that specific hardware; or when you are diagnosing a specific problem.
So, in summary Ninite sounds very promising; Secunia is a good tool that I can recommend; and when it comes to drivers, just don't. And also, make sure to enable automatic updates that are offered by the software on your machine already, including Windows itself.